The price of gold has dropped from its record high after the State Bank of Viet Nam announced November 9 on its web site that it would allow the precious metal to be imported for a third time this year.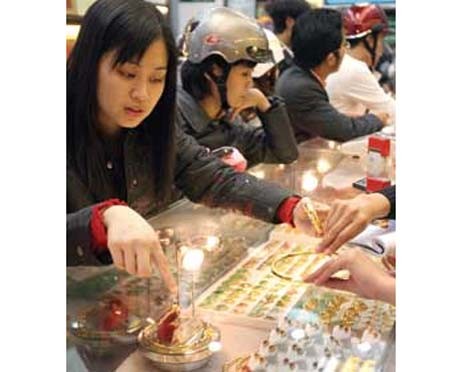 Gold is traded at a Bao Tin Minh Chau store in Hanoi (Photo: VNA)
The announcement triggered an immediate fall to VND36.4-37.42 million (US$1,765) at gold shops from northern to southern Vietnam after the price had earlier hit a record VND38.8 million per tael ($1,825).
The amount of gold the central bank will allow to be imported has not been disclosed.
But it allowed about 10 tons in August and October.
State Bank of Viet Nam Governor Nguyen Van Giau attributed the record gold price to speculators, the steadily increasing global price and people's expectations.
It was possible speculators were trying to manipulate the price, he told reporters in Hanoi.
The governor also announced a start to the selling of the US dollar yesterday afternoon to commercial banks that had requested it and soon after the currency had fallen to VND21,200.
The decision to infuse dollars into the market as announced last Friday had not started earlier because banks had not sought the currency, he said.
The US dollar had been at VND21,500 at noon, up VND550 against Monday or VND850 against last Saturday.
The currency had tumbled to VND20,200 and the gold price to below VND35 million per tael when the infusion plan was announced last Friday.
The previous record price for the dollar was VND21,050.
Such Hanoi and HCMC gold shops as the Sai Gon Jewellery Co; the Sacombank Jewellery Co; Bao Tin Minh Chau; Agribank Jewellery Co and Phu Nhuan Jewellery Co had changed their prices at least ten times during the morning and early afternoon.
Prices reached VND37.70-38.80 million (US$1,774-1,825) per tael.
The price was up 7.61 per cent against late Monday or 9.42 per cent against last Friday. It has increased about 38 per cent against last year.
The previous record price for gold was set on Monday - VND35.85 million per tael.
The record high was set after the global gold price hit new record high of $1,410.60 an ounce overnight. One tael equals 1.2 troy ounces.
Yesterday's fluctuations in the gold and dollar markets mimicked those of last November when the price for domestic gold suddenly went from VND27 million to VND29.3 million per tael and the dollar from VND17,880 to VND18,500 in a morning.
The price fell to VND25 million per teal after the central bank allowed gold to be imported.
Eligible gold importers include Asia Commercial Bank, Sacombank, Eximbank, Viet A Bank, Sai Gon Jewellery Co and Phu Nhuan Jewellery Co, however, these enterprises were unable to disclose details about their quotas.