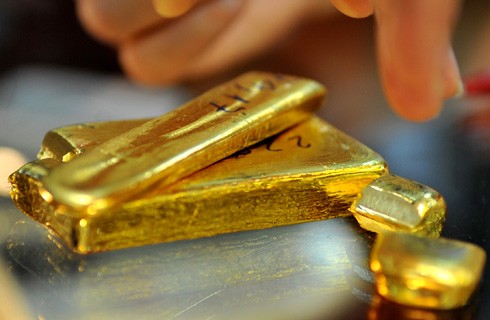 (Photo: VNExpress)
The State Bank of Vietnam announced Tuesday it allowed the import of five tons of gold as a rapid response to the country's low supply and the world's fast rising gold prices, and to stabilize the market.
A State Bank announcement on its website Tuesday said the central bank may allow another import of five tons of the metal in the coming days to continue to stabilize the market prevent speculation and manipulation.
This announcement, as another one did Monday, warned people not to buy gold, and said the central bank continued to keep a close watch on gold prices.
Monday saw gold hit a record VND45 million (US$2,165) per tael in the Vietnam market. However Tuesday sees strong fluctuations, with the peak at VND46.3 million ($2,213) at a time.
In Vietnam, one tael is about 1.2 ounces
According to local sources close to gold, many gold traders have asked the State Bank to allow them to import the metal after the bank's import announcement Tuesday.
The world market Tuesday saw gold prices exceed US$1,770 at a time, then down to $1,750 and $1,740, then up to almost 1,750 again.