The central bank's measures on stabilizing the foreign currency market have proved fruitful as people have been eager to sell US dollar to commercial banks, financial experts said.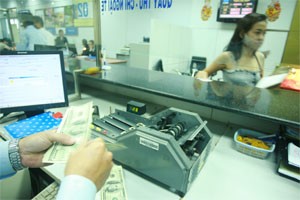 Individuals and businesses are willing to sell US dollar to commercial bank thanks to the state bank's measures on restoring stability in the monetary market (Photo:Minh Tri)
Tran Anh Tuan, general director of NamABank, said the central bank's foreign exchange rate measures got positive result as individuals and businesses preferred to sell US dollar to commercial bank.
Many lenders have widened the deficit between the selling and buying price of the greenback to VND20-25, showing their dollar supply remained sufficient, Tuan said.
"Individuals and businesses' US dollars have started flowing into banks since the central bank constantly boosted the interbank exchange rate and strictly supervised the currency market," said Nguyen Hoang Minh, deputy director of the State Bank of Vietnam's Ho Chi Minh City branch.
"People acknowledged that the saving rate of 3 percent per annum on dollar deposits were low, so they opted for saving dong or switching to other asset classes," Minh told Dau Tu Tai Chinh.
The State Bank of Vietnam early this month announced a new cap on dollar deposit rates in an effort to restore stability in the monetary market.
 
Starting April 13, the ceiling for interest rates on dollar deposits will be 3 percent, the central bank said. For institutional and corporate clients, the cap will be just 1 percent.
The central bank said banks in Vietnam are offering to pay individual clients an average 4.5 percent a year on dollar deposits, much higher than the rates in regional countries.
The new cap is necessary to bring local and international rates closer to each other and to stabilize the currency market, the bank said, noting that higher dollar rates put upward pressure on dong rates.
"The saving rate on dollar deposits will definitely decline further and the lending rate will continue to move up. Dollar loans will be limited," said Dr. Le Xuan Nghia, vice chairman of the National Financial Supervisory Commission.
"Those factors will reduce the lending interest rate on dong loans. We are asking the government to apply a non-fixed rate of 0 percent for dollar deposits of businesses in an effort to encourage them to make transactions in dong," Nghia said.
Experts said the state bank last week began to inspect gold shops in town in an effort to curb illegal dollar hoarding and trading.
Nguyen Thi Tuyet Minh, owner of a gold shop in District 5, said she was not willing to exchange dollars as she earned only VND10-20 for one dollar, which is equal to one-third of the profits in previous years.
As the greenback supply on the currency was improved, lenders started selling dollars to individual clients strongly.
Vietnam Import-Export Bank, also known as Eximbank, announced last week that it offered an amount of $7,000 at maximum at listed prices for clients to use overseas.
Other lenders including Vietcombank, VietABank and DongABank also followed a similar pattern, selling the greenback to customers at listed prices in accordance with the central bank's regulation.