The State Bank of Vietnam has announced that the maximum deposit interest rate in Vietnam dong will be cut by 1 percent to bring the cap on short-term deposit interest rates at commercial banks to eight percent.
The new rate will apply to all organizations and individuals in credit institutions, banks, branches of foreign banks, and the economic sector, from today, December 24.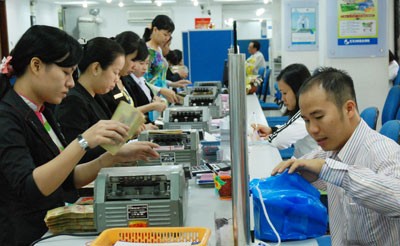 Dealing in Eximbank (Photo: Cao Thang SGGP)
Annual interest rates on refinancing services and overnight rate will also be cut by 1 percent, to 9 percent and 10 percent respectively.
Interest rates on rediscounted loans will be cut to 7 percent per year, from the previous 8 percent.
The State Bank issued a circular on the new caps on deposit interest rates that says the maximum interest rates for demand and term deposits of less than one month will be maintained at 2 percent per year. Deposit interest rates with terms from one month to 12 months will be lowered to 8 percent per year.
For People's Credit Fund, the 1 percent reduction will require lower deposit interest rates with terms from one to 12 months, to 8.5 percent per year.
Financial institutions and branches of foreign banks are allowed to set interest rates for deposits with terms of more than a year based on market demand. The regulation is expected to help banks attract more capital in the last month of the year.
The State Bank also issued another circular on the new caps for lending interest rates for VND at bank accounts and financial institutions.
The cap of 12 percent for lending interest will be applied to four industries, including agriculture and rural development, production and trade in exports, production and trade for small and medium-sized enterprises, and supporting industry development.
Local People's Credit Funds and microfinance institutions will be allowed to apply a ceiling lending interest rate in VND for these industries, at 13 percent per year, an official from the State Bank said.
Together with several measures applied by the Government and ministries in 2012, tightened monetary policies and regulations of interest rates at banks have considerably helped curb inflation.
The country's inflation rate in November increased by 0.47 percent from October, and was up 6.52 percent from the same period last year. The national inflation rate has reduced by around 7 percent by the end of this year, according to economists.