Prime Minister Nguyen Tan Dung presided over a meeting of the Government and State Owned Enterprises (SOE) with participation of State economic groups and corporations, in Hanoi on January 16.
Pham Viet Muon, deputy head of the Government Committee for SOEs innovation and business development, presented his report on operations in 2012 and the task of restructuring state run corporations and SOEs in 2013.
He cited data of the Steering Committee for Enterprise Reform and Development that State-owned groups and corporations recorded total revenues of more than VND1,621 trillion (US$77.2 billion) in 2012, accounting for 92 percent of the annual target and up two percent from 2011.
In particular, he said, the revenue of some SOEs increased considerably such as oil and gas, electric power, petroleum, telecommunications, military equipments, telecommunications, aviation, food, textile and rubber.
However, profits of some SOEs decreased compared to 2011 or failed to meet target in 2012, such as coffee, coal and mineral mining. They also reported pre-tax profits of VND127.5 trillion last year, down five percent from 2011.
Twenty one businesses were restructured in 2012, of which 13 were liquidated, five were merged and three were turned into one-member limited liability companies.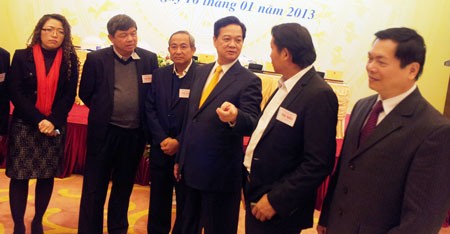 Prime Minister Nguyen Tan Dung (4th L) talks with leaders of SOEs (photo SGGP)
The report also reviewed the wastage and poor sense of thrift in several corporations.
Many SOEs carried out projects that were not effective with high management costs. Meanwhile, most of the SOEs did not have much innovation to enhance the competitive abilities.
Muon also pointed out that SOEs need to overcome prolonged losses, weak corporate administration, scattered and ineffective investment, and slow restructuring. Each group and corporation must develop its own comprehensive restructuring plan, he stressed.
Muon also warned about the total debt of nearly VND327 trillion, up 10 percent from 2011 and accounting for 15 percent of total assets of all SOEs.
In short, in 2012, SOEs, State run Corporations suffered losses of VND2.3 trillion, he concluded.
Delivering the speech at the meeting, Prime Minister Nguyen Tan Dung asked State-owned enterprises (SOEs) to increase the transparency of their operations and affirm their main role in stabilizing the macro-economy.
Chairing the meeting, Dung stated that business and production results must be published in a transparent, honest and timely manner so the public understands how SOEs operate.
The Government leader urged the resolute implementation of SOEs restructuring under the approved plan. He asked SOEs to focus on their core businesses and withdraw investment capital from non-major businesses.
PM Dung asked that groups and corporations facing financial difficulties clarify the responsibility of involved managerial officials and restructure their capital and assets.
"Withdrawing investment must be implemented closely to avoid any negative impact," he noted.
The PM stated that the Vietnamese economy made positive achievements in curbing inflation, stabilizing the macro economy and ensuring social welfare in 2012, despite numerous difficulties caused by the global economic downturn.
He noted that SOEs should remain a core force in the 2013 economy as many difficulties and challenges remain ahead of them.
In 2013, all the economic groups and corporations are ready to overcome difficulties and maintain production. They must continue to help maintain the macro economy and make important contributions to socio-economic infrastructure and key national works, he added.