Food suppliers attending the price stabilization program complaint that they are under pressure from the increasing material prices and production costs, asking for loans with preferential lending rates.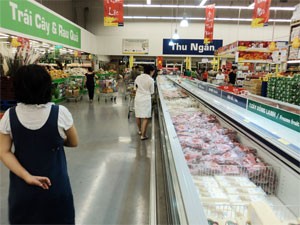 Shoppers walk by store shelves of frozen processed food at a HCMC-based supermarket (Photo:Minh Tri)
Processed food supplier Vissan submitted that the price of state-subsidized goods should increase by 15 percent at least from this month due to the increasing cost of gasoline, electricity and feed.
Truong Chi Thien, director of the food firm Vinh Thanh Dat, said it is necessary to adjust the price frame of state-subsidized goods this year as the material cost keeps rising sharply.
Businesses offering state-subsidized goods last year earned very low profits due to the increasing costs, Thien said.
Nguyen Van Truc, general director of the Saigon Agriculture Incorporation, asked the Ho Chi Minh City People's Committee and the city's Department of Industry and Trade to apply new prices for the state-subsidized goods.
Truc said his firm incurred losses from selling foods at the state-subsidized prices, which are around 10 percent lower than market prices.
The Saigon Agriculture Incorporation is suffering a daily loss of VND100 million (US$5,000) from selling pork with the state-subsidized price of VND68,000-72,000 per kilogram as the market price increased 15-20 percent to VND80,000-90,000 per kilogram, he said.
Le Ngoc Dao, deputy director of the HCMC Department of Industry and Trade, said "we are only in charge of supervising attendees of the price stabilized program and the supplying, adjusting the price is the responsibility of the Department of Finance."
Low-rate loans in need
Nguyen Thi Hanh, general director of the HCMC-based retailer Saigon Co.op, said her firm needs around VND700 billion ($35 million) to set up more outlets in 2011.
However, she hesitated to borrow from banks as the lending rate remains very high, amounting to 18-22 percent per annum. Therefore, Saigon Co.op needs a bailout from the HCMC People's Committee, Hanh said.
Chau Nhat Trung, general director of the poultry firm Huynh Gia Huynh De, said he will be eager to attend the price stabilization program in 15 years, if his company is offered loans with preferential rates in 10 years.
Mai Thi Thu Thuy, Party Committee Secretary of the Industry Business Department, said all businesses attending the price stabilization program asked market supervisory units to curb the fake products, helping them to improve their competitiveness.
They also need to buy dollars from banks without paying the fee of 2-3 percent to buy materials from abroad, Thuy said.
The price stabilization program has participating firms sell essential goods at prices 10 percent lower than prevailing market rates in return for incentives like interest-free loans to stock the listed goods.
Under their price stabilization programs this year, Hanoi and Ho Chi Minh City have so far spent VND400 billion (US$19 million), and VND380 billion ($18.1 million), respectively.
The money is mostly given as interest free loans to 28 participating businesses so they can stock and sell rice, meat, seafood, processed food, eggs, cooking oil, sugar and vegetables, at prices lower than in the market.