Surging input prices and demand will continue to push up steel prices on the domestic market, a recent conference has heard.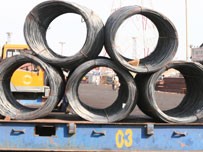 Prices of all steel products, including rolled steel such as this at Saigon Port, are rising.
At the moment, steel billets imported from China cost US$720 per ton, increasing by as much as $50 in less than a month, said experts at the conference held Monday in Ha Noi.
At present, 70 percent of Viet Nam's imported steel billets come from China, said President of the Viet Nam Steel Corporation (VSC) Dau Van Hung.
Every new policy that China, the world's major steel billet exporter, imposes on its steel will affect the domestic steel market, according to the VSC.
For instance, China recently decided to reduce its billet steel exports by increasing the export tax on steel billets from 15 to 25 percent, starting this month.
Steel billet prices on the world's market consequently surged to an all time high of $750 per ton.
"As the steel billet supply from China is shrinking, we have to compete with other countries who also import Chinese steel billets, andthis is pushing up their prices," said Hung.
And considering that China, with 10 steel corporations at present, aims to control half of the world's steel market by 2010, Vietnamese steel importers should be prepared for more costly policies from that quarter, said experts at the conference.
Speculation is posing another problem, according to those attending the conference.
VSC's figures for last year reveal that long steel prices jumped up from 22 to 24 percent, rolled flat steel rose by 44.6 percent, and hot-rolled steel went up 21.9 percent compared to the previous year.
Many of these price hikes were caused by speculation, the conference heard.
Hung said the producers' current steel price averaged VND12.3 million per ton, yet the market prices varied by up to VND17 million per ton.
"Steel distributors are the ones reaping the biggest profits," Hung said.
Industry and Commerce deputy chief Do Huu Hao said other reasons for the price rises included a lack of cooperation between producers and distributors, as well as price ceiling mechanisms in the steel industry.
Looking towards self-sufficient domestic production
Chairman of the Viet Nam Steel Association (VSA) Pham Chi Cuong said increasing domestic production of steel billets was the only way out of Chinese dependency.
Though local producers can only meet 40 percent of domestic demand for steel billets at present, Cuong said there was potential for more.
"At the moment, domestic steel billet prices are almost $200 lower than prices of imported billets," Cuong said.
The major challenge to Vietnamese steel billet producers, according to Cuong, was the lack of a comprehensive legal framework to facilitate the import of input materials like scrap iron and steel.
Hao said the government was also looking for ways to move away from importing steel billets from China.
These include speeding up major joint ventures to manufacture steel billets from iron ore as well as exploring opportunities with other steel billet exporters such as the European Union, Australia or the Republic of Korea.