Data by the General Department of Vietnam Customs showed that by December 15, 2013, the country imported 9 million tons of steel worth US$6.5 billion, an increase of 25 percent in volume and 14 percent in value.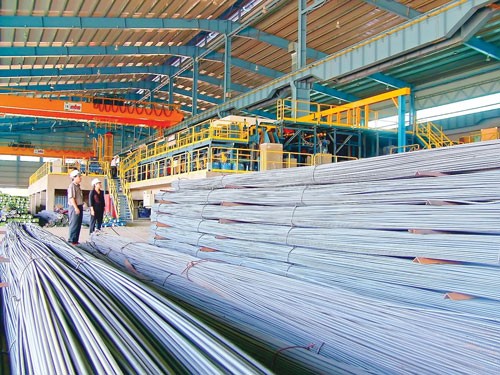 Illustrative image. (Photo:SGGP)
Meanwhile, steel exports were estimated at $2 billion. Therefore, last year, steel market saw trade gap of $4.5-5 billion, same as that in 2012.
According to calculations by the Vietnam Steel Association, revenue of steel industry will increase by 2-3 percent to 4.6 million tons. However, steel consumption will not post significant improvement, merely rise 2-3 percent compared to the previous year.
Hence, with high inventory level, weak consumption, and poor exports, steel industry is expected to continue to face difficulties this year, not to mention pressure caused by cheap steel imported from foreign countries which is dominating local market.
Since the beginning of December last year, the Ministry of Industry and Trade started to impose anti-dumping duty on stainless steel manufactured by China, Indonesia, Malaysia, and Taiwan (China).
Accordingly, Chinese steel producers received lowest rate of 6.45-6.99 percent, whereas Taiwanese company Yuan Long Stainless Steel Corp got highest duty of more than 30 percent. Indonesian and Malaysian steel manufacturers were imposed duty level of 12.03 percent and 14.38 percent, respectively.