Free trade agreements that will take effect early next year are predicted to cause more pressure on Vietnam's steel industry which has already faced with the exceed of supply over demand and fallen purchasing power.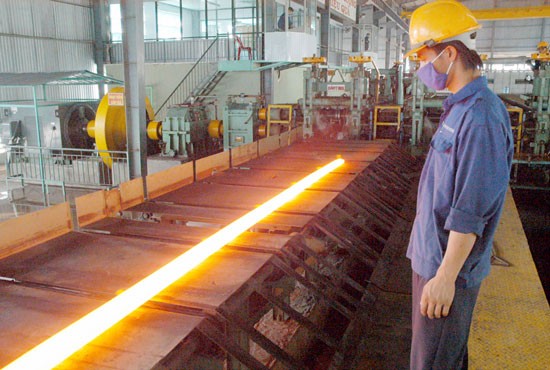 Domestic steel production is under pressure from economic integration (Photo: SGGP)
In August, output of rolled steel and steel bars increased by 15.6 percent and 6.6 percent respectively compared to the same period last year, reported the Ministry of Industry and Trade.

Steel import was up 14.4 percent in volume and 7.1 percent in value in the first eight months this year.
 
Meantime, slow consumption has lowered the steel price by VND200,000-600,000 a ton. Some steel shop owners in HCMC attribute this to the stagnant real estate market.
 
Since early this year, four steel mills with a capacity of one million tons each have closed down and three 600,000 ton plants have temporarily shut down. Several others are perfunctorily operating and in the verge of bankruptcy.
 
According to the Vietnam Steel Association, the total capacity of Vietnam's steel plants tops 11 million ton structural steel, approximates 9.30 million steel billets and exceeds 2.1 million ton steel pipes.
 
Steel supply has far exceeded demand not including under-construction steel mill projects.
 
It is results that local producers will face more challenges when the ASEAN-China Free Trade Area and the Free Trade Agreement between Vietnam and the Customs Union of Russia, Belarus and Kazakhstan take effect in early 2015.
 
The Steel Association worries about competition from Russia and China who are the world's two largest steel producers.
At present, domestic producers have faced heavy pressure from low cost steel from China. It might be worse when the 5 percent tariff on some steel items is abolished from January next year.