With 2012 being full of turmoil for steel companies and forecasts that the steel industry will not recover for another year, steel firms need Government support to resolve issues on capital and consumption to achieve the growth target of 3 percent.
Figures of the Ministry of Industry and Trade show that steel production reached 9.1 million tons last year, of which construction steel accounted for 5 million tons; steel pipes for 0.6 million tons; and plated sheet metal for 1.3 million tons. Whereas consumption of construction steel merely touched 4.5 million tons, a decrease of 10 percent compared to that in 2011. Steel production also dropped by 14 percent compared to the same period last year.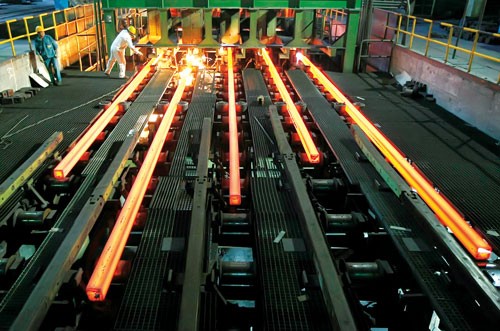 Steel industry is forecasted to remain gloomy in 2013. (Photo: SGGP)
According to Nguyen Tien Nghi, vice chairman of Vietnam Steel Association, earlier forecasts said that steel consumption would rise by 3-4 percent in 2012, but in reality it fell by 9 percent. Despite peak period of construction, monthly consumption was lower by upto 100,000-200,000 tons compared to previous years.
Last year, Vietnam Steel Corporation (Vnsteel) only produced 2.1 million tons, down 2.4 percent year-on-year, accounting for about 77 percent of last year's target. Despite reduction in production, the company was still suffering high inventory of 101,000 tons of steel ingots, 123,000 tons of construction steel, 4,000 tons of steel plates, and 30,000 tons of laminated steel.
Besides, lower import tariffs on steel have helped foreign-made steel to flood the local market, sending local steel producers into a difficult situation. Due to poor consumption, most steel firms have had to reduce production to avert losses while some other companies have called a halt to investment projects or expansion of plans because of a financial crunch.
Le Phu Hung, CEO of Vnsteel, said that 2012 was the toughest year ever for steel manufacturers. Tightened credit policy, frozen real estate market, and an increase in import steel had sent local steel companies into despair. Vnsteel has 41 facilities which mainly produce construction steel but 10 of them suffered loses last year. Most facilities had to lower production and adjust output, so they merely operated at 40-50 percent of their capacities. Some even ran at 30 percent capacity to maintain manufacturing and workers.
Representatives of the Southern Steel Company said that most manufacturers have been facing fierce competition with both domestically-made and foreign-made steel. Although the price of material climbed strongly, firms had to run promotional campaigns to compete with each other so their manufacturing was not as steady as before.
According to experts, several remaining shortcomings such as high inventory, reduction in capacity, and a shortage of investment capital will still weigh on steel producers.
Fortunately, some companies still managed to achieve revenue targets last year. For instance, Viet Duc Steel Company revenues touched nearly VND6 trillion; Hoa Sen Group profited VND350 billion; and Hoa Phat Group hit a profit of VND1.1 trillion. These signals showed that steel industry still has opportunities to develop amid economic difficulties. Therefore, the industry set a growth target of 3 percent.
However, this year, China Steel Sumikin Vietnam Company will join Vietnam's steel market with a capacity of 1.2 million tons so domestic companies will have to put greater efforts to win market share.
Vu Huy Hoang, Minister of Industry and Trade said that the ministry has proposed to the Government to restructure the domestic steel industry and will coordinate with the Ministry of Science and Technology to promulgate technical barriers against imported steel to protect domestically-made steel.