Steel makers told the Government at a meeting in Ho Chi Minh City yesterday that they are incurring losses due to falling demand and require help to avoid bankruptcy.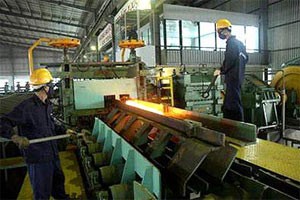 Manufacturing at Phu My Steel Company in the southern province of Ba Ria-Vung Tau
Pham Chi Cuong, chairman of the Vietnam Steel Association, said production and sales have been plunging since September.
 
Steel companies have seen sales fall by two-thirds and inventory pile up. Each firm has 540,000-550,000 tons of ingot steel, 300,000 tons of steel scrap, and 400,000 tons of construction steel in stock. 
 
Steel traders are sitting on stockpiles of over one million ton of steel products and materials.
 
Due to the piling up of stock and 20-percent lending rate demanded by banks for loans, six companies have suspended production while the remaining are running at half-steam.
 
Steel companies told the Ministry of Industry and Trade at the meeting that they are in dire need of rescue, but were unable to agree on a common solution. While many steel ingot producers called for increasing import tariffs, others rejected the suggestion as near-sighted, saying it would hurt consumers.
 
Mr. Cuong suggested increasing the tariff from the current 2 percent to 20 percent on steel ingots, from 7 percent to 9 percent on cold-rolled steel, and from 5 percent to 10 percent on hot-rolled steel.
 
The Vietnam-Australia Steel Company warned the higher taxes would hamper many other industries, place a burden on consumers, and create inflationary pressure.
 
The Vietnam Steel Corporation too rejected the demand for hiking taxes, saying it is just a short-term solution that cannot address the root problem.
 
The head of its import-export department, Lai Quang Trung, said: "Vietnam is still a net importer of steel ingots as local output just meets 20 percent of demand. Therefore, any tax rise must be based on the correlation of interests between steel ingot producers and steel rolling enterprises."
 
Nguyen Van Thang of the ministry's Heavy Industry Department was more forthright, panning the association's proposal as merely representing the interests of steel ingot producers without considering the overall industrial and economic situation.
 
Steel producers requested the Government to reschedule their debts and taxes so that they can survive what is a tough period.
 
Deputy Minister of Industry and Trade Le Duong Quang said companies should review and adjust their business strategies and improve technologies to reduce costs and bolster their competitiveness.