The current retail price of domestic steel is around VND15 million (US$790) per ton, an increase of VND140,000 per ton since last month when it was selling for VND13.62 million per ton, exclusive of value-added tax.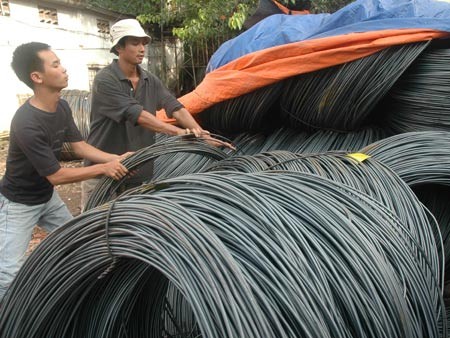 Steel prices continue to rise in April. (Filed photo)
According to Pham Chi Cuong, chairman of the Vietnam Steel Association, the prices of finished steel products will likely continue to rise in April due to the higher cost of imported input materials such as ingot, coal and iron ore.
However, domestic and imported steel are in ample supply, so the price hike is not due to scarcity of resources, Cuong said.
Though forecasts vary, most economists believe that steel prices will continue rising in 2010 in accordance with global price increases.
They cite escalating input material costs and electricity prices, which began March 1, as well as VND/USD rate fluctuations that make imported ingot steel more expensive. Experts also say the return of the value-added tax to its normal rate of 10 percent will affect prices.
 
Most analysts say that steel prices won't increase too sharply, however, and that the supply of the commodity will be stable.