The price of steel has continued to increase because of speculation, Vietnam Steel Corporation (Vnsteel) representatives said at a meeting in Ho Chi Minh City on April 9. The conference was held to discuss measures to stabilize domestic steel prices.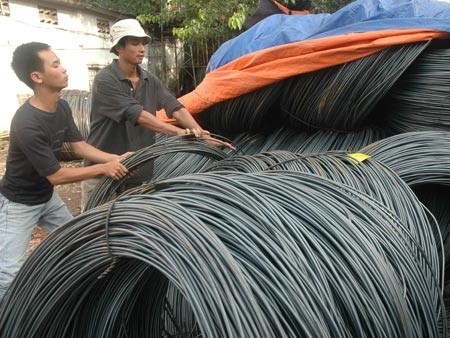 Steel prices continue to increase because many steel traders buy more steel for speculation.
According to Vnsteel, demand for the commodity has recently increased sharply as many traders have been buying more steel for speculation.  

A huge amount of steel products are now in stock in Vietnam, Vnsteel said. 

Currently, stock levels of domestic steel makers are at around 20,000 tons of steel products and 50,000 tons of embryo steel, said the Vietnam Steel Association. 

Due to the large amounts of stocked products, prices are expected to reduce in the near future. In addition, competition amongst domestic steel makers and low import duties will help to lower prices soon, said Vnsteel.

On the other hand, steel makers are able to produce more than seven million tons per year of products, while steel demand is just around five million tons per year, said Vnsteel.

The enterprise currently supplies more than 50 percent of steel products to the domestic market and says it can provide enough steel for projects in the second quarter of 2010.  

Vnsteel also affirmed a shortage of steel will not occur in the near future.