Steel prices are on the decrease, resulting in a likely increase in steel sales in the second half of the year.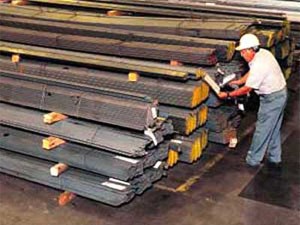 Steel prices will fall in the coming months
Pham Chi Cuong, Chairman of the Vietnam Steel Association (VSA), said yesterday that the price of steel ingots from China has decreased to US$510 per ton, and is continuing to drop. Steel prices across the country are expected to fall in the coming months.
 
Rolled steel is currently on sale at VND9.2 to 9.6 million (US$575-600) per ton, and bar steel at VND10-10.3 million (US$625-644) per ton, an increase of VND2 million (US$125) per ton compared to the end of last May.
 
VSA has attributed the recent price increase to China's increase on export tax on steel ingots from ten percent to fifteen percent.
 
Mr. Cuong said the Pomina steel factory in Phu My will come into operation late this year and will produce 500,000 tons of steel ingots per annum.
 
The factory's production will help bring down steel prices as manufacturers become freed from the pressure of importing steel ingots.
 
So far this year, the country has imported over 1.1 million tons of steel ingots. In May alone, imports reached 375,000 tons.