The steel sector is set for a policy overhaul this year as the country fulfills its World Trade Organization commitments by withdrawing incentives to domestic firms and pulling down import barriers, making the sector intensely competitive.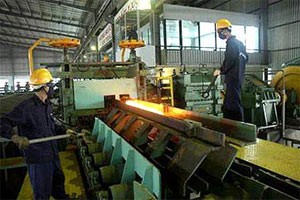 The Phu My Steel Plant in Ba Ria-Vung Tau Province. With incentives and import barriers set to be dismantled, the steel industry is bracing for intense competition in 2010.
Pham Chi Cuong, chairman of the Vietnam Steel Association, said more and more steel would be imported from ASEAN member-countries, China, and Russia as tariffs tumble.
 
Local producers would not only face fierce competition from foreign firms but also each other, he said.
 
With licensing decentralized, a slew of steel plants are set to open this year, sending supply surging to three times the demand, he added.
 
Do Duy Thai, director of Pomina steel company, said the competition between local and foreign steel would become fiercer as domestic production expands.
 
To compete with their foreign rivals, not only do local players have to cooperate with each other but also the Government needs to give them a hand, he said.
 
The Ministry of Industry and Trade said steel production rose by 25 percent last year and consumption by 30 percent.