Vietnam spent over US$10.4 billion on importing steel products, which was the third largest import item of the country last year, reported the General Department of Vietnam Customs.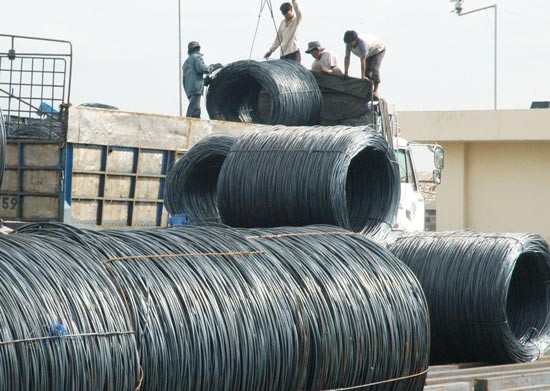 Vietnam posted a steel trade deficit of $6.7 billion in 2016. In the photo is steel product of a manufacturer in the southern province of Ba Ria-Vung Tau (Photo: SGGP)
Export turnover reached $3.7 billion resulting in the trade deficit of $6.7 billion for the entire year.
 
China was the top exporter to Vietnam with nearly 10 million tons, up 18 percent over the period year, followed by Japan with 2.4 million tons up 7 percent and South Korean with 1.69 million up 6.5 percent.
 
Of the import items, local businesses have been able to supply half of the market demand. Therefore, the Ministry of Industry and Trade has imposed provisional safeguard duties of 15.4 percent on long steel products and 23.3 percent on steel billets to stop the highly increasing import trend.
 
Afterwards the ministry will apply official defense measures on the two products. Tariff rate on steel billet will be 21.3 percent within a year from March 22, 2017 to March 21, 2018.
 
The rate will gradually reduce to 19.3 percent and 17.3 percent in the following years and from March 22, 2020 it will slide to 0 percent.