On the contrary to a subtle status in September, the Vietnam's stock market has become vibrant since October as foreign investors net bought again since Vietnam successfully negotiated the Trans-Pacific Partnership (TTP).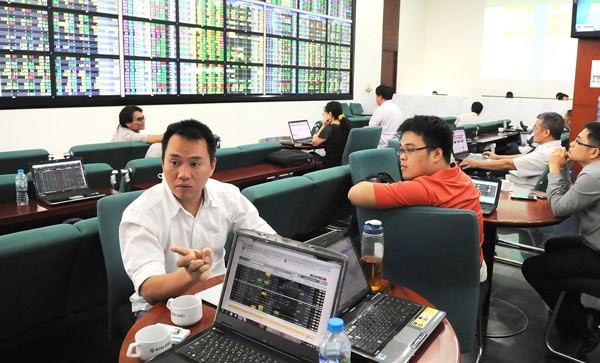 Investors at a securities company. (Photo: SGGP)
After net selling for two consecutive months, foreign investors have returned to net buy on both trading floor in October. Statistics by securities companies show that total buying volume by foreign investors in October hit 77.72 million shares worth more than VND1.15 trillion (US$50 million) while they net sold nearly VND1.05 trillion in September and VND400 billion in August.
 
Particularly, on the Ho Chi Minh Stock Exchange (HOSE), foreign investors net bought 71.71 million shares worth more than VND1.11 trillion in October. Of which MBB shares of Military Commercial Joint Stock Bank were bought most with more than 40 million shares worth nearly at VND644 billion. In fact, foreign investors bought this amount of shares in the trading session on October 8, right after the lender decided to make more room for foreign investors. The runner-up was DLG shares of Duc Long Gia Lai Group with nearly 9.6 million shares worth VND68.5 billion. PYN Elite Fund was among biggest buyers of DLG with roughly 3.34 million shares. Currently, the fund has become a major shareholder with more than 5 percent stake in DLG.Moreover, the fund has also held 6 percent stake in Hoang Quan Real Estate Consulting – Trading – Service Limited Company after it bought 9.2 million of HQC shares worth VND55 billion.

On the Hanoi Stock Exchange (HNX), foreign investors also net bought more than 7 million shares, totaling more than VND53 billion in October. TIG shares of Thang Long Investment Group were boughtmost with more than 2.9 million shares worth nearly VND29 billion. Noticeably, the buyer was still PYN Elite Fund, who helped TIG shares to increase by 18 percent within a month. SCR shares of Sai Gon Thuong Tin Real Estate JSC followed with 2.2 million shares worth nearly VND18 billion. Moreover, foreign investors bought 1.44 million CEO shares of CEO Group and 1.2 million SHB shares of Saigon-Hanoi Commercial Joint Stock Bank.
 
Foreign investors have continued to net buy in the first trading sessions in November. For instance, on November 3, foreign investors net bought more than 4.3 million shares on HOSE worth more than VND79.6 billion. Although they started to net sold on HNX on the same day, generally, the market's total net buying volume exceeded 3.2 million shares worth more than VND55.2 billion.
 
According to Le Duc Khanh, strategy director of Maritime Bank Securities Company, the fact that foreign investors have returned to net buy will encourage sentiment as well as cash flow of local investors. As a result, the Vietnam's benchmark VN-Index will reach higher marks in the future.
 
Securities experts said that beside positive news, including the fact that the Government intended to divest its stakes at large state-owned companies, the Trans-Pacific Partnership was the 'catalyst' that helped Vietnam's stock market to become vibrant. The proof is that VN-Index hit 607.37 points in October, up 8 percent compared to that was in late-September, and HNX-Index also reached 82.23 points, up 5.5 percent.
 
Nguyen Hai Hoang, analyst at Rong Viet Securities Company, said that transport and logistics companies will be the first to benefit from the Trans-Pacific Partnership, thanks to robust growth in trade among member economies. According to the Vietnam Seaports Association, the volume of goods received customs clearance through seaports across the country will grow by 10-12 percent per annum. The number of containers received customs clearance in the first six months of this year alone rose by 25 percent over the same period last year. This tendency has affected positively business results of maritime transport and port operations companies.
 
According to BIDV Securities Company, garment and textile is one of six industries that benefit most from TTP because in this field Vietnam is the second largest exporter into the US and the third largest one into Japan. Therefore, the market shows that shares that are expected to benefit from TTP, comprising of garment and textile shares such as TCM, TNG, and KMR, oil and gas shares, including GAS, PVD, PVS, and PGS, and seafood and food processing shares, such as HVG and FMC, all climbed together.
 
According to the Vietnam Securities Depository, by October 30, 2015, it had issued trading codes for 18,413 foreign investors, consisting of 2,840 institutional investors and 15,573 individual investors. Of which, in October alone, there were 112 new foreign investors with 50 institutional and 62 individual investors. Moreover, VSD accepted to change information for 32 foreign investors and cancel trading code for four foreign institutional investors.