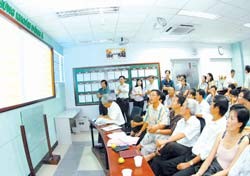 Investors monitor the VN index at the Ho Chi Minh City Securities Trading Center.
Financial experts and investors are unanimous in their belief that 2006 has witnessed the greatest change in the Ho Chi Minh City stock market since it became operational in July 2000.
In late 2006, the market saw sudden and marked increases in terms of both listed volume and transactions. To date, 106 enterprises and two investment funds are listed on the Ho Chi Minh Securities Trading Center.
The market value of the listed companies totals VND148 trillion (over US$9 billion), representing 15.36% of the country's GDP, up from VND7.4 trillion in 2005.
Those were the figures contained in a report prepared by center director Tran Dac Sinh and presented to Vice State President Truong My Hoa when she visited the center on January 2, the first business day of 2007.
In the last two years, the center has held 115 share auctions, netting companies over VND7.1 trillion. Currently, there are more than 80,000 transaction accounts, of which 2,000 belong to foreign investors. As many as 35 securities companies are working on the city's stock market and that number is expected to increase this year.
According to Mr. Sinh, the recent boom in the stock market has contributed greatly to the development of the banking system in Viet Nam, particularly with respect to commercial joint-stock banks. Besides share auctions, the city's stock exchance also held government bond and provincial bond auctions, successfully issuing trillions of VND worth of bonds.
In addition, the Securities Law took effect on January 1, 2007, allowing trading centers to grant listing licences. Therefore companies do not have to seek permission to list from the State Securities Commission anymore.
Mr Sinh said commodity quantities for the stock market will increase in coming years and his center is planning to upgrade the transaction system to a more modern one incorporating international standards. Total investment for the project is expected to reach US$15 million.
The year 2006 not only witnessed a record number of listing companies on the market, but also record highs on the VN Index. The index easily exceeded the 600 point threshold early in the year and by the year end had gone beyond 800. Last year's final transaction closed with the index at 751.77 points, up by 144% over the end of 2005.