The VN-Index dropped a surprising 10.45 points to 1,075.29 at the Ho Chi Minh Stock Exchange on Tuesday, a day when there were 89 losers despite the optimistic prognostications of market analysts.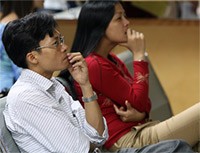 Investors worry about the surprising drop of blue chips
It was a disappointing day for blue chips like Sacombank (STB), FPT Corporation (FPT), Vincom (VIC), Sudico (SJS), Vinamilk (VNM), Petro Vietnam Drilling and Well Services (PVD), Vinh Son Hydropower (VSH) and REE Technology (REE).
Contrary to what most people were expecting, Sacombank dropped VND1,000 to end the session below VND70,000. They'd been hoping that STB would lead the way up and the other blue chips would follow in its wake.
FPT shed VND1,000 too despite announcing a decent profit for the first three quarters (VND564 billion) and the news that it had been licensed to expand its telecom business.
A big loser on the day was VIC, which dropped by VND5,000 when 200,000 shares changed hands soon after the company announced the release of VND1 trillion in construction bonds.
A similar fate befell flavors of the month like Hau Giang Pharmaceutical (DHG) and Imexpharm (IMP).
What was odd about the day was that a dozen of the session's 22 winners rose limit up on the back of extraordinary buying volume. They included Binh Trieu Construction and Engineering (BTC), Da Nang Plastic (DPC), Binh Duong Packaging (HBD), Navifico (NAV), Tan Tien Plastic (TTP) and Vietnam-Italy Steel (VIS).
Traders and speculators are pouring money into the small caps while the bigger stocks are finding it hard to curry favor. What will happen to the market is anybody's guess.