The Asia Commercial Bank (ACB) has announced it would finalize its list of ACB bond owners on September 16 to start converting its five-year bonds into ordinary shares the next day.
The Ho Chi Minh City-based bank said a bond with VND1 million in face value would be converted into 100 shares with VND10,000 in face value each.
On October 16, 2006, ACB issued more than 550,000 bonds with the coupon rate being 8% per year. Therefore, this conversion would create more than 55 million new shares.
In related news, the bank has announced it would pay dividends for 2007's earnings to stockholders at a rate of 55 percent. The payment is expected in October.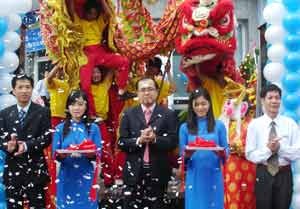 Asia Commercial Bank opens a new transaction office on Ngo Tat To Street, Binh Thanh District, HCMC on September 10
On September 10, ACB opened its Tien Giang Branch in the Mekong province of Tien Giang, and two transaction offices in Ho Chi Minh City, where it is headquartered. The new branch is located in My Tho City of Tien Giang, and the two new transaction offices are in District 7 and Binh Thanh District of HCMC.

UK-based Standard Chartered Bank is a strategic partner of ACB, and recently increased its stake in the firm to 15 percent, the European bank said. On September 9, the State Bank of Viet Nam handed over licenses to set up wholly foreign-owned banks to Standard Chartered and HSBC. The two British firms can operate locally as commercial banks.