The Asia Commercial Bank, Viet Nam's fifth largest bank by assets, on Tuesday started trading its hot shares in the country's stock market, becoming the second bank to list shares after Sacombank.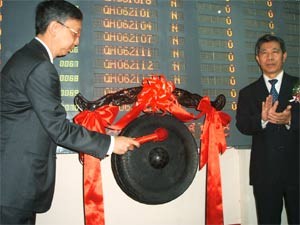 ACB chairman Tran Mong Hung hits the gong to start share trading in Ha Noi while State Bank of Viet Nam Governor Le Duc Thuy witnesses (Photo: Courtesy of ACB)
The Ho Chi Minh City-based bank ACB listed 110,004,656 shares on the Ha Noi over-the-counter Securities Trading Center under a license from the State Securities Commission. The shares rose to VND130,200 (US$8.1) from the starting price of VND111,000 (US$6.9).
ACB is the first bank listed in Ha Noi and the OTC market's 17th stock. 
None of the foreign investors that hold a combined 30 percent in ACB wanted to sell their shares, the bank's CEO Ly Xuan Hai said.
The UK-based Standard Chartered Bank owns 8.56 percent of ACB, the biggest stake of ACB's four foreign shareholders. The World Bank's International Finance Corporation the Jardine Matheson Group's Connaught Investors Ltd. has 7.3 percent each, while Dragon Financial Holdings Ltd. Co. owns 6.84 percent.
CEO Hai reaffirmed that his bank is trying its best to be a market leader in Viet Nam, which joined the World Trade Organization on November 7 and successfully hosted an APEC Economic Leaders Meeting on the weekend. He added ACB's deposits are expected to US$9-10 billion over the next five years.
Bankers in the country say deposits here are predicted to grow about 22 percent a year to US$100 billion by 2010 from US$36 billion now.
One day before the listing day, ACB held an information session in Ha Noi for investors, drawing over 400 attendants, who are individuals and representatives of organizations, financial institutions and investment funds. 
In Viet Nam, ACB is the fifth largest bank after the four leading State commercial banks – Vietcombank, Agribank, Bank for Investment and Development, and Industrial and Commercial Bank.
Related articles
ACB Bank to Early List Shares in Ha Noi
Asia Commercial Bank Issues Bonds for over $103 million