While domestic retail investors sold out May 12, causing the VN Index to lose over 25 points, some foreign investors continued to be buyers.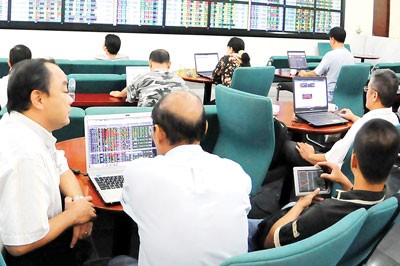 Experts advice stock-market investors to keep calm (Photo: SGGP)
Tensions in the East Sea have worried investors, causing the selloff, Tran Hai Yen, an analyst at Bao Viet Stock Company, said.
But foreign investors continued to be net buyers to the tune of VND250 billion (US$12 million), equivalent to half of last week's total trading.
The East Sea tensions are unlikely to worsen and it is not time to sell now, Saigon Securities Inc said.
The market plunge is in fact creating a chance for long-term investors to buy Vietnamese stocks at reasonable prices, it added.
FPT Securities Join Stock Company said the fall on May 12 showed the insecurity among short-term investors, who sold low even as foreign investors kept buying.
Investors should study the volumes for three to five sessions to anticipate the market's movement and stability, it said.
They should keep calm because the current situation could be a signal for them to buy at low prices for the medium and long terms, FPTS said.
Rong Viet Stock Company also believed the index would rise in the long term and advised investors against making hasty decisions.
Cautious investors could observe instead of buying now, but if they choose the right shares – firms whose prices have fallen but have the ability to recover -- they might be rewarded, the company said.
The VN-Index dropped 25.41 points to 517.05 on May 12 as 239 shares declined, 16 remained unchanged, and 24 rose.
The VN30-Index lost 24.61 points to plunge to 563.3, as 29 of the shares making up the index lost.