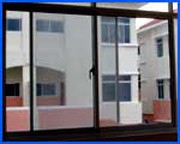 Tung Kuang's sliding aluminium window.
Tung Kuang Joint Stock Company (Tung Kuang) has been approved to list its stock on Ha Noi Securities Trading Center. To be listed, Tung Kuang just needs to submit the amended investment license – from Ministry of Planning and Investment (MPI) - after finishing the transfer of foreign founders' stocks.
The company, which produces construction aluminium products, was founded in 1995 with the initial capital of USD 5.5 million from Taiwan. Today, it has more than USD 25 million of investment capital. This is the second foreign direct investment (FDI) stock to be listed after Taya Vietnam Electric Wire and Cable Joint Stock Company, which is currently traded on Ho Chi Minh City Securities Trading Center. Subsequently, Chang Yihm Enamelled Tile Company Limited will follow Taya and Tung Kuang to be listed on the stock market.
According to the MPI, to date, the Prime Minister has approved 12 FDI companies to change into joint-stock corporation, and the MPI has licensed nine of them, which have the total chartered capital of VND 632.7 billion (USD 34 million).
Related Articles:
First Foreign Share in Vietnamese Stock Market
VINARE to List Shares on Ha Noi Bourse