Australia and New Zealand Banking Group Ltd. (ANZ) said on Monday it had acquired a 10 percent stake in Viet Nam's top stock broker Saigon Securities Inc. (SSI) for US$88 million, further boosting its Asian expansion.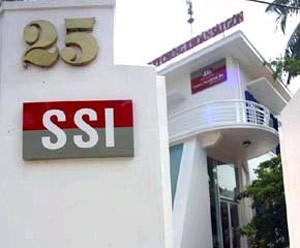 SSI headquarters (Photo: VNEconomy)
The acquisition values the Saigon Securities at about $880 million, compared with its Friday's market value of about $481.3 million.
ANZ is paying around 283,360 Vietnamese dong ($17.6) per share, based on Reuters calculations, a hefty premium of about 83 percent over Saigon's last trade price for its minority stake, based on the U.S. dollar conversion.
ANZ senior managing director, Bob Edgar, said the strategic partnership with SSI would benefit ANZ's existing institutional capital markets business in the fast-growing Vietnamese economy.
"This unique partnership combines the strong local market capabilities of SSI with ANZ's regional access, and builds on the existing relationship between the two organizations," Edgar said in a statement.
Saigon, which also advises state-owned companies undergoing privatization and underwrites share and debt issues, reported a four times rise its first-quarter profit to US$28.8 million from a year ago. Quarterly revenue rose to US$35.5 million.
ANZ, which is Australia's third-biggest lender, has been aggressively expanding into Asia to offset any potential slowdown in its main Australia and New Zealand markets.
ANZ has spent about A$1.5 billion in buying largely small minority stakes in banks from Indonesia to China and analysts are expecting new Chief Executive Officer Michael Smith, who takes charge in October, to continue with ANZ's Asian growth strategy.
Smith has a strong background in Asian banking, having been HSBC Holdings' (HSBA) Asian business head.
ANZ has also been looking to boost its stockbroking business in Australia, and in April took control of E*Trade Australia Ltd. (ETR).
Established in 2000, Saigon Securities listed on the Ha Noi stock exchange in December last year.
"We look forward to further developing our relationship with ANZ and leveraging their international expertise to take full advantage of the opportunities presented by economic growth in Viet Nam," Saigon's chairman and chief executive officer Nguyen Duy Hung said.
Viet Nam has averaged GDP growth of more than 7.5 percent for the past five years, and the industry and services sectors now account for more than 82 percent of the economy.
($1=16,100 Vietnamese dong)