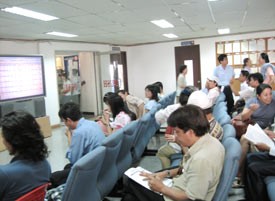 Many investors put their money to HASTC. (Photo: T.C)
Fast growing in Ha Noi bourse
Closing at 237.09 points, the first trading session of the week on May 8 of Ha Noi Securities Trading Center (HASTC) marked a new record for the HASTC-Index.
Six out of ten stocks soared, including the flagship stock, VSH of Vinh Son – Song Hinh Hydroelectric Joint-stock Company. The share has surged to VND 21,000 (5.53%) and pushed the HASTC-Index up to 3.19 points. Total trading volume reached VND 21 billion.
As 2 recent weeks' statistics showed, the index has rallied from 201.56 points to 237.09 points with the formidable growth of all HASTC listed stocks.
The strongest surge was the Construction and Infrastructure Development Joint-stock Company (CID) which had an increase of 56.25%, closing at VND 29,000 per share on May 8.
The only one bucking the trend was Khanh Hoa Electricity Joint-stock Company (KHP). It has fallen to VND 26,600 from VND 28,400 due to its loss of VND 2 billion in Q1.
Not only had their prices soared, the liquidity of those stocks also improved where the average trading volume hit VND 20 billion per session.
Changing flow of investment
The stock prices on Ho Chi Minh City Securities Trading Center (HSTC) have been soaring up recently along with difficulties in placing orders due to the overloaded systems.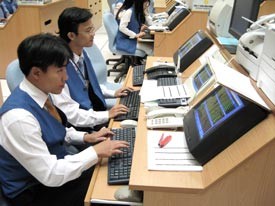 The ACB Securities Company's brokers put order in HSTC. (Photo: T.C)
Many investors found HASTC as an alternative place to put their money. There is a flow of investment from HSTC to HASTC helping to raise market value of these stocks to a new height. Especially, HASTC's stocks are considered as undervalued relative to those on HSTC.
For instance, in two consecutive trading sessions on May 5 and 8, almost all HSTC stocks fell. Particularly in May 8 trading session, 36 out of 36 stocks and fund certificate dropped. VN-Index downed 19.64 points and closed at 574.25 points.
Therefore, Mr. Thong, a veteran investor on the trading floor of ACBS Ha Noi plans to place 50% of his investment on HASTC. "Because these stocks are still relatively inexpensive and safer", he said.
Where to invest?
Apparently, investors, who are putting their money into HASTC, fear the sky-high stock prices of HSTC together with its risks.
They turn to HASTC because it's safer and likely to bring them bigger returns.
However, HASTC's listed companies results cannot yet match their HSTC counterparts. Their current credibility and transparency still discourage investors. However, HSTC are slowing down and this is the chance for HASTC to show off its attractiveness.
Next, HASTC will welcome its newest member, Tung Kuang Industrial Company (TKU), the first FDI enterprise on Ha Noi bourse. With its chartered capital of VND 163.9 billion and 3.28 million shares registered to list, TKU promises to be a hot stock that can stir up HASTC's atmosphere.