Many shareholders of listed banks complaint that the questioning session between shareholders and members of the Board of Directors at the annual general meeting (AGM) this year was too short.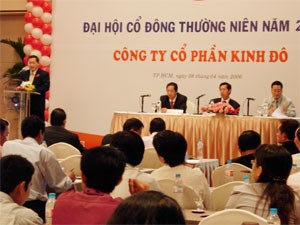 Members of the Board of Directors listen to shareholders' questions at an annual meeting of the confectionery firm Kinh Do. Many shareholders of lenders say they are upset with the short Q&A session at the AGM this year (Photo:Minh Tri)
At the AGM of a lender identified D starting at 9 am last month, the general director reported business activities and this year's earning target of the bank before the break time came one hour later.
After a 30-minute break, the chairman delivered his speeches until 11:30 am, with some shareholders leaving the meeting during the speeches as they could not wait for the Q&A session.
The session eventually lasted less than one hour, with just a few questions from tired attendees.
Shareholders of a commercial bank identified S were vexed by a similar issue. At the AGM of the lender, the session of reporting financial results and targets lasted from 8 am to 2 pm. There were only one third of the attendees at meeting when the Q&A session began.
Shareholders said one hour for the Q&A session was not enough, while all reports of members of the Board of Directors was in documents delivered to them at the beginning of the event.
"Business plans and earning targets this year of lenders are set at low levels due to the government's tight the monetary policy. Shareholders certainly are not happy with that. Therefore, most banks tried to shorten the Q&A session as much as possible," said an official of a HCMC-based lender.
However, some banks still seriously listened to shareholders' opinion, while others tried to share losses with their shareholders.
At the AGM of VietABank this year, the Board of Directors spent a long time to answer all questions of its shareholders. Some of them made strongly critical questions, but directors answered them clearly.
NamABank announced at the AGM that it would pay 2010's dividend rate of 10.5 percent to shareholders holding stakes worth below VND10 billion ($500,000) and 6.05 percent to those holding stakes worth over that amount.
NamABank this year offers small shareholders a dividend rate of 11 percent, while gives big holders a rate of 8.1 percent.
TrustBank followed a similar pattern, offering small shareholders a rate of 10.5 percent and big holders a rate of 8.5 percent.
The Long An Province-based lender this year is set to raise its registered capital to VND5 trillion and target a pretax profit of VND550 billion.
Experts said the move was to relieve small shareholders as shares in small-cap lenders could almost not be traded and their dividend rates were less than saving rates of 14 percent per annum.