Lenders still report fat profit despite a slumping capital market this year. Banking, insurance and consumption stocks are always among foreign investors' top picks.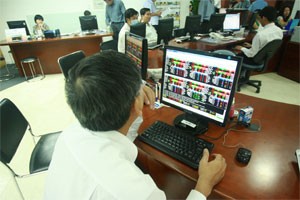 Bank stocks are among investors' top picks now thanks to their healthy earning results (Photo: Minh Tri)
Many investors earlier were cautious about shares in the Saigon-Hanoi Commercial Joint Stock Bank, which list on the Hanoi Stock Exchange on April 2009, since it had a small capitalization compared to other listed lenders such as ACB and Sacombank. 
Yet it becomes investors' top picks thanks to the wining streak of its share price and healthy earning result. 
The Can Tho City-based bank, also known as SHB, earned a significant asset growth rate of 60 percent per year in the last five years, of which its equity also gain an booming growth rate of more than 24 percent per year. 
SHB made a pretax profit of VND411 billion (US$20 million), a year-on-year increase of 35 percent. 
Despite a prolonged bear market, the bank's share price increased by nearly 30 percent to VND8,800 last month, according to figures from the Hanoi Stock Exchange. 
HCMC-listed VietinBank is the biggest gainers among bank stocks thanks to its healthy earning results. 
Shareholders of the Hanoi-based lender are extremely excited as the bank achieved a net profit of nearly VND3 trillion in the first half, a year-on-year increase of more than 80 percent.  
The bank, also known as the Vietnam Joint Stock Commercial Bank for Industry and Trade, said its loans had experienced a 12.3 percent year-on-year increase at the end of June, reaching a total of VND261.69 trillion ($12.7 million). 
Brokers say VietinBank's share price is being boosted strong buying from investors, who were impressed by its booming earning, and short-term investments by exchange traded funds. 
Meanwhile, Vietcombank, the country's second largest partly- private lender, reported a gross profit of more than VND3 trillion in the first six months of the year, up 8.2 percent from a year ago. 
Other large lenders, like Sacombank and DongA Bank, also posted impressive earnings. 
Sacombank said H1 net profits increased 11 percent from a year before to VND1.14 trillion ($55.4 million). DongA Bank reported gross profits of VND676 billion ($32.9 million), or 52 percent of its annual goal for the whole year. 
Small lenders have also announced striking earnings. Navibank, for instance, has declared a H1 pre-tax profit of VND128 billion ($6.2 million), up 72 percent from the same period last year.