Property firms of the giant Becamex IDC Corporation have a strong financial base, which mainly comes from the share issues to raise their registered capital. However, experts warn this year's gloomy real estate market will likely to hurt the sales of the subsidiaries.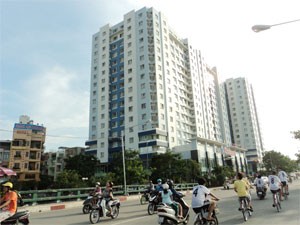 View of a apartment buiding in HCMC. As property market in the southern hub remains bearish, sales of property firms of Becamex from lands in Binh Duong Province will likely to go slow (Photo:Minh Tri)
Among subsidiaries of property giant Becamex IDC Corporation is Becamex Infrastructure Development JSC, which has a huge registered capital of nearly VND3 trillion (US$150 million).
The figure increased around fivefold through the share issue with the one-for-four ratio for existing shareholders at the end of 2010.
The Binh Duong Province-based builder, also known as Becamex IJC, said in a financial report it would allocate the fund raised from the issue to the project on a new urban zone in Binh Duong Province.
The Ho Chi Minh City-listed firm expects to make an after-tax profit of VND520 billion ($26 million) from a revenue of more than VND2 trillion this year.
"Despite the registered capital's fivefold increase, the targeted profit is expected to rise measly 2.5 times year-on-year. That is definitely not a goal shareholders expect," said a broker in HCMC.
In the first three months of the year, Becamex IJC earned a pretax profit of nearly VND43 billion from a revenue of more than VND81 billion only.
Experts worried that the company would unlikely to reach the earning targets due to the low profit and revenue in the first quarter, which amount to 4 percent and 8 percent of the targets respectively.
"Becamex IJC earns a steady profit from the toll fees, with a gross profit rate of 75 percent. But now it seem to focus more on real estate investments this year, which carries high risks," said a veteran investor.
Binh Duong Trade and Development JSC (BCE), another subsidiary of Becamex, also raised its chartered capital to VND1 trillion from VND200 billion this year.
The HCMC-listed construction firm said it would use the extra fund of VND800 billion for property projects, including the shopping center Uni-Town, VSIP Hai Phong and VSIP II Tan Uyen.
The company expects to make a revenue of around VND1.75 trillion ($87.5 million) and a net profit of nearly VND210 billion this year, with an earnings-per-share ratio (EPS) of VND2,100 per share.
Its brother - Binh Duong Construction And Civil Engineering JSC or BCCE – followed a similar pattern, issuing additional shares to raise its registered capital by VND100 billion to VND300 billion in the first three months.
The parent firm Becamex is holding stakes of 52 percent, 75 percent and 61 percent in BCE, Becamex IJC and BCCE respectively. It pumped more than VND2 trillion into the three subsidiaries through the share issues.
The construction giant has a huge registered capital of VND4 trillion and the stockholders' equity of VND15 trillion.
Despite the enormous capital, the three companies are among the stock market's biggest losers, with share price clinging on the face value of VND10,000.
"The three subsidiaries of Becamex will grapple with the hard time on the property market this year. Even though properties in Binh Duong Province look potential, investors have still hesitated to buy since the real estate market in HCMC remained gloomy," said a financial expert.
Analysts also worried that the share issue will dilute Becamex's subsidiaries too much, leaving the shares getting less attractive to investors in spite of its healthy earning results and strong financial base.