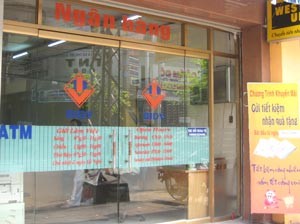 BIDV can be the first bank to list its bonds on the stock market. (Photo: T.C)
The State Securities Commission (SSC) announced the Decision 52/UBCK-GPNY allowing the Bank for Investment and Development of Viet Nam (BIDV) to list the bank's bonds issued in phase I/2006.
BIDV is able to list 22,046,450 bonds at Ho Chi Minh City Securities Trading Center (HSTC). The bonds have the nominal value of VND 100,000 each and 10-15 years term.
In order to provide sufficient information about bondholder for custody and listing, BIDV halted all the transaction of the bonds to finalize the list of bondholder and announce the listing at least five days before the bonds' debut on the stock market.
After listed, all the transactions of these bonds will be conducted through the stock exchange.
Meanwhile, the convertibles of the Bank for Foreign Trade of Viet Nam (Vietcombank) issued nearly 6 months before BIDV's bonds but have not yet hit the bourse. Despite having the intention to list this June, it is likely that Vietcombank will lose the "first bank's bonds to list on the market" title to BIDV.
After Vietcombank and BIDV, the Ho Chi Minh City Infrastructure Investment Joint-stock Company (CII) and the Electricity of Viet Nam (EVN) are preparing to issue corporate bonds.
Related Articles:
EVN Prepares To Issue An Extra VND 600 Billion Worth Of Bonds
Listed Companies Get New Signals
Bank Stocks Appealing to Investors
New "Goods" for Vietnamese Stock Market
BIDV's Bonds to Be Listed By the End of June
BIDV to Offer More VND 100 Billion Worth of Bonds to Individual Investors
Vietcombank Bonds to Go on Bourse Next Month