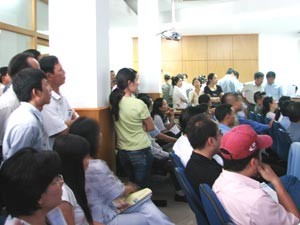 More individual investors want to buy BIDV's bonds. (Photo: T.C)
BIDV has just issued VND 2,100 worth of bonds, which are long-term debt instrument for raising capital, including VND 2,000 billion to be sold to institutional investors and VND 100 billion for individual investors.
As planned, this VND 100 billion of bonds will be offered to individual investors from May 9 to May 19, 2006.
However, after just two days of issuing, the bonds have been sold out.
As the market demand is still great, BIDV has decided to issue an additional of VND 100 billion worth of bonds, raising the total value of bonds for individual investors to VND 200 billion.
The bank has also completed the bond issue to institutional investors, according to BIDV.
In this issuance, there are three banks which bought VND 600 billion of BIDV bonds (30%), four insurance companies owns VND 510 billion, five securities firms bought VND 689 billion and three other investors which are financial companies and mutual funds, VND 101 billion (5%).
As of these investors, there are 3 foreign ones (2 insurance companies and 1 fund) which have bought VND 290 billion of bonds (approximately 15%).
Related Articles:
BIDV to Issue VND 5,000 – 6,000 Billions of Bonds