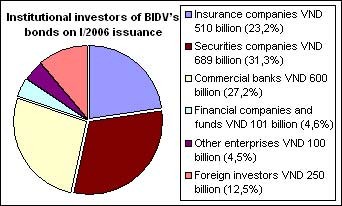 BIDV's bondholders on I/2006 issuance. (By: T.C)
Raising-capital bonds of Bank for Investment and Development of Viet Nam (BIDV) are to be listed on the securities exchange by the end of this June, said Tran Bac Ha, Director of BIDV.
These will be the second corporate bonds listed, after Vietcombank's convertibles.
The recent issuance of VND 2,200 billion worth of bonds aimed at raising the bank's Tier 2 capital.
As of May 15, BIDV has the total capital of VND 8,442 billion, consisting of VND 6,066 billion of Tier 1 capital and VND 2,421 billion of Tier 2 capital, and the capital adequacy ratio of 9.02% (the minimum required is 8%).
As of this VND 2,000 billion worth of bonds, VND 1,185 billion (54%) are 10-year bonds; the remaining VND 1,015 billion (46%) are 15-year bonds.
The total volume offered to institutions was VND 2,000 billion over the VND 2,800 billion of the registered buying volume. The bonds were preferred to sell to long-term and quality institutional investors.
BIDV's bonds will partly ease the demand on the centered stock market and help to improve its stability, said many analysts.