This year may continue to be another eventful year for the stock market with a number of debuts from big corporations including Petrolimex, PV Power, Vietnam Engine and Agricultural Machinery Corporation (VEAM) and Loc Troi Group.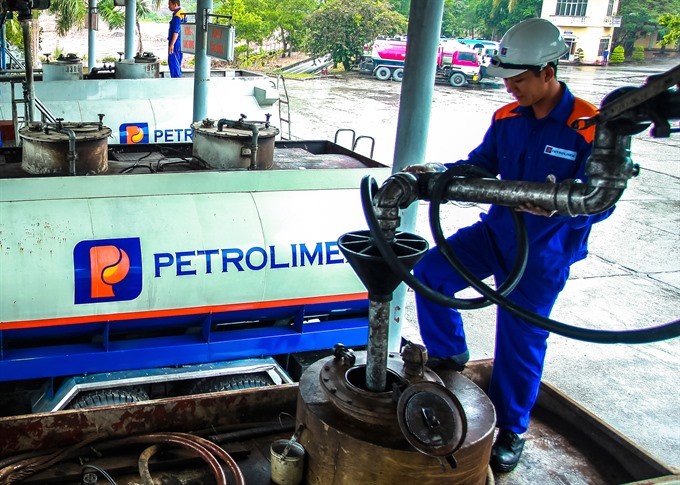 A worker pumps fuel. Petrolimex is one of the most anticipated listings in 2017. (Photo: VNA )
Petrolimex

After Vietnam Airlines, investors may be most excited for The Vietnam National Petroleum Group's (Petrolimex) - a leading petroleum distributor in Việt Nam with a 50-per-cent market share - expected first quarter debut.

Petrolimex's chairman Bui Ngoc Bao told the Dau tu chung khoan (Securities Investment) newspaper in January that the group will list shares on the HCM Stock Exchange in the first quarter if all listed conditions are satisfied.

Petrolimex made the initial public offering (IPO) in 2011 at VND15,032 (US$0.66) a share. After the information of listing in 2017, its share prices on the Over the Counter (OTC) market have picked up from VND26,000 a share late in 2016 to VND40,000 apiece in recent days.

The group has charter capital of over VND12.9 trillion ($568.3 million) with the State holding 75.9 percent, JX Nippon Oil & Energy owning 8 percent.

It has 66 member companies and 3 joint-venture firms with 14,000 service stations by all economic sectors and 2,352 stations of the parent company, supplying 50 percent of the country's demand for petroleum products.

It has estimated a pre-tax profit of nearly VND6.2 trillion in 2016. Last year, the group paid a 15-percent dividend rate.

PV Power

Another big energy company is expected to make an IPO and list shares this year is PV Power, a member company of Vietnam National Oil and Gas Group (PetroVietnam).

The Wall Street Journal cited the head of the company's Business Renewal and Development Committee Phan Dang Tuat as saying that the Government is seeking to sell its stakes here to a strategic investor to reduce holdings to below 50 percent.

In 2016, PV Power generated an estimated 21.16 billion kWh of electricity, collecting total revenues of over VND26.5 trillion. Its net profit is forecast at VND1.6 trillion.

The country's second largest power supplier has targeted to produce over 21 billion kWh of electricity in 2017 with total revenues expected at VND30.8 trillion and net profit of VND1.56 trillion.

Details of its IPO have yet to be disclosed.

VEAM

Vietnam Engine and Agricultural Machinery Corporation (VEAM) raised VND2.14 trillion in the nation's largest IPO last year, with 149.5 million shares sold at an average price of VND14,291 a share.

Under the current law, VEAM must trade shares on the Unlisted Public Company Market (UPCoM) for 90 days after its IPO and list on either of the two national stock exchanges within one year.

On the OTC market, VEAM's shares are trading at around VND20,000 a share.

Established in 1990, the corporation, which makes engines and agricultural machinery, automobiles and motorbikes, possesses 12 member companies and nine affiliate firms. It owns major stakes in Honda Vietnam (30 percent), Toyota Vietnam (20 percent) and Ford Vietnam (25 percent), which have brought stable earnings for the company.

In 2016, VEAM estimated total revenues of VND11.3 trillion and consolidated profits of VND3.6 trillion.