The VN-Index fell 2.59 points to 1,101.29 at the Ho Chi Minh Stock Exchange on Wednesday as blue chips continued down while small caps enjoyed a little gain.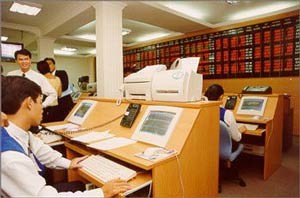 Vn-Index fell 2.59 points to 1,101.29
Up north in Hanoi, the HASTC-Index dropped even more, shedding 6.56 points to close at 372.6.

It was tough going for the blue chips, although it didn't seem that way at the start. Sudico (SJS) actually rose limit up at the beginning of the session but abruptly reversed course and ended the day VND10,000 down.

With more than 180,000 shares traded, Tan Tao Industrial Zone (ITA) was also out of favor and cast off VND1,000.

Other blue chips went the same way. Sacombank (STB) fell VND500, Vincom (VIC) dropped VND3,000, and Pha Lai Thermal Power (PPC), Vinamilk (VNM), Vinh Son Hydropower (VSH), Petro Vietnam Drilling and Well Services (PVD) and Schenker-Gemadept Logistics (GMD) slid VND1,000.

Most analysts are not surprised by the lower prices and say they are to be expected after the solid gains of late. It's only a dip, in their opinion, and stocks should surge after the big corporations announce their full-year profits.

Not all the big names fell today. Kinh Do Food (KDC) rose a healthy VND8,000, Saigon Cables & Telecommunication Materials (SAM) added VND2,000 and REE Technology (REE) went up VND1,000.

FPT Corporation (FPT) drew much attention by reversing course after dropping limit down yesterday and gaining VND4,000 to close the day out at VND270,000.