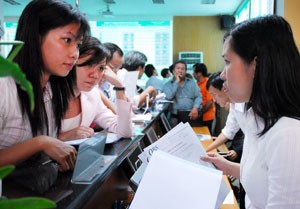 Investors open trading accounts with a stock broker.(Photo Viet Dung/SGGP)
The VN-Index repeated yesterday's performance and fell 6.13 points to 1,081.63 at the Ho Chi Minh Stock Exchange today.
The biggest losers were the blue chip stocks, many of which ended limit in the wake of heavy selling.
Trading was relatively quiet for the first two hours as prices gradually declined and only heated up a little as the session neared the end.
Among the hardest hit stocks were Sacombank (STB), Vinamilk (VNM), Petro Vietnam Drilling and Well Services (PVD), Sudico (SJS), REE Technology (REE) and Kinh Do Food (KDC).
PetroVietnam Tourism and Service (PET), which had doubled in price recently, reversed course today and dropped back to VND99,000.
FPT Corporation (FPT) and Vinh Son Hydropower (VSH) went with the flow and fell limit down.
There were a few exceptions, and healthy ones at that. While Pha Lai Thermal Power (PPC) added VND2,500, Vincom (VIC), Schenker-Gemadept Logistics (GMD) and Hau Giang Pharmaceutical (DHG) went all the way and ended the session limit up.
So too did Vietnam Electricity Construction (VNE), which now stands at VND69,000 after seven sessions of straight gains.
Still, the market did end down overall. Analysts reckon the worsening sentiment in the past two days could easily spill over into the OTC market, which has been on a bit of a tear lately.