After exceeding 1,100 points several days ago, blue chip shares dropped slightly today, and the VN-Index fell 1.33 points to 1,103.88 at the Ho Chi Minh City Stock Exchange.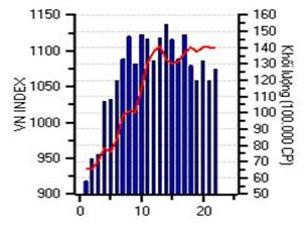 VN-Index chart for Oct 16

Four blue chips Ree Technology (REE), Schenker-Gemadept Logistics (GMD), Vinamilk (VNM) and Vinh Son Hydropower (VHS) showed little changes in their prices.

Meanwhile, others like Vincom (VIC) dropped by VND4,000, PetroVietnam Tourism and Service (PET) and Vitaco (VTO) dropped by VND2,500.

The same thing happened to FPT Corporation (FPT), Tan Tao Industrial Zone (ITA), Petro Vietnam Drilling and Well Services (PVD), Saigon Cables & Telecommunication Materials (SAM) and Sacombank (STB).

Most notably, Kinh Do Food (KDC) dropped by VND12,000 to the lowest price during the past two weeks.

Much to investors' surprise, Sudico (SJS) suddenly rose limit up among other small caps. It is clear that the demands of short-term investors for small caps are increasing as 31 out of 69 shares rose limit up despite VN-Index's decline.

In Ha Noi bourse, strong gains was made by small caps, pushing HASTC-Index up 8.31 points to 379.16 with 7.7 millions shares changing hands for VND756.74 billion.