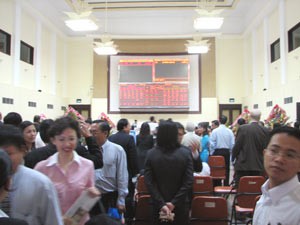 The stock exchange welcomed new listed company. (Photo: T.C)
The 10.71 million shares of Binh Minh Plastic Joint-stock Company (BM Plasco – trading code: BMP), on July 11, was officially floated on the Ho Chi Minh City Securities Trading Center (HSTC), closing at VND 67,000/share.
In its first trading session, 88,400 BMP shares of nearly VND 6 billion in value changed hands. The unmatched buying volume at the closing price reached 23,310 shares. There were also buying orders for 3,750 BMP shares at VND 67,500 each, which could not be realized.
This level of BMP price can be considered relatively attractive as the stock's price-to-earnings (P/E) ratio stayed at 10.73.
Previously, SJS share debuted at VND 100,000 each, of which the P/E ratio was only 3.48, skyrocketing in 4 consecutive sessions, by 20%.
Ho Chi Minh City–based BM Plasco's main products are PVC pipes and their components, HDPE pipes, and other products like pesticide sprayers and safety helmets.
BM Plasco produced 21,000 tons of plastic in 2005, ranking only behind the Tien Phong Plastic Joint-stock Company (25,000 tons) and exceeding about 30 other companies with similar products.
However, the company's market share in Northern provinces is still limited due to high transportation costs and a lack of manufacturing branches. BM Plasco is currently eyeing foreign markets such as Cambodia, the US, Australia, and New Zealand with signed agreements to provide certain products.
The company has the chartered capital of VND 107.18 billion, of which the government holds 39.5%, outsiders have 36.5% and company employees hold the remaining 24.1%.
Related Articles:
New Investment Opportunities with More Listings and Share Sales
Sudico's Record Debut
BM Plasco Submits Listing Application