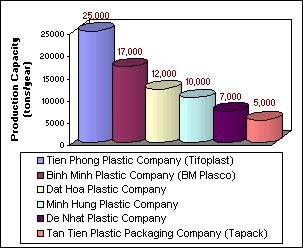 Production capacity of some plastic companies. (Source: BM Plasco, Design by T.C)
The State Securities Commission (SSC) announced it has just received the listing application of Binh Minh Plastic Joint-stock Company (BM Plasco).
BM Plasco reportedly has VND 107.18 billion worth of chartered capital and the State owns 39.47% of its stocks. The number of share going to be listed is 10,718,000 shares.
BM Plasco specializes in domestic and industrial plastic products and construction plastics. The company is a big player in Southern Viet Nam's market and one of the leading companies in the industry, behind Tien Phong Plastic Company (Tifoplast).
In 2006, the company plans to move the plant to Song Than Industrial Zone in Binh Duong, which will cost approximately VND 40 billion. The 6,232 m2 site in 6th District, Ho Chi Minh City will be transformed into a trading center and an office building.
After Da Nang Plastic Joint-stock Company (DPC) which is already listed, and BM Plasco, two other plastic companies, Tan Tien Plastic Packaging Joint-stock Company (Tapack) and Tan Hoa Plastic Joint-stock Company (VIKY Plastic) also show their intention to list later this year.
Related Articles:
Sacombank Prepares To List
BIDV's Bonds to Be Listed By the End of June
Two More Enterprises Are Licensed To List