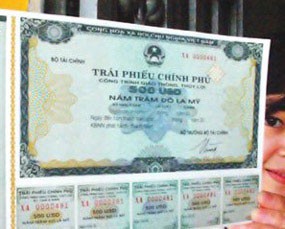 A government bond
The Vietnam Bond Market Association (VBMA) has been established to boost the market and promote loan tools in the country. It held an opening ceremony in Hanoi on Aug. 14.

The association now has almost 60 members of domestic and international securities companies and banks.
Do Ngoc Quynh, a member of the board lobbying for the establishment of VBMA, was quoted by a local newspaper as saying that a major responsibility of the organization was to build a legal framework to bolster healthy development of the Vietnamese bond market.
Among what it will do first is to work on a code of ethics in bond trading. Next, it would organize training programs and act as a bridge between its member and government management agencies. It would protect the rights and legal benefits of its members and strengthen the cooperation among the members for the development of the bond market.
VBMA is also working on updating, storing and setting up a database on market information to improve transparency.
On the occasion of the VBMA debut, the Hanoi Stock Exchange plans to open a new separate bond market in the near future.