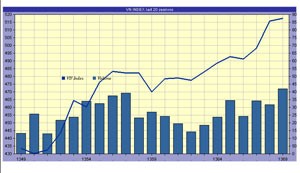 The VN-Index over last 20 sessions (Source: Vietcombank Securities Company)
Tuesday's session saw all 49 stocks rising, resulting in the VN-Index to increase a hefty 17.45 points to 515.66. This is the first time the index passed 500 over the last two months.
After the National Day public holidays, the trading value on Tuesday totaled more than VND157 billion, VND8 billion lower than on last Friday, while 3.1 million shares changed hands.
Investors especially preferred blue chips, acquiring 358,380 STB, 367,310 VF1 and 335,110 VSH.
Foreign investors spent VND11.5 billion buying 59,600 CII, 45,140 VNM, 38,500 VF1, 11,600 FPC, 10,200 SAM, 9,000 VFC and 8,200 KDC. They also sold 21,560 AGF, 20,600 VNM, 20,000 BMP, 11,200 LAF, 11,100 TYA and others.
On Wednesday, the index raised just 1.95 points to 517.61. The total trading value was VND208.8 million, but up to almost 4.19 million shares changed hands.
Wednesday's five blue chips were VSH (with 785,190 shares traded), VF1 (476,460), STB (442,200), TYA (244,100) and BMP (165,790).