Brokerages have suffered heavy losses from stock jobbing due to a prolonged bear market, say financial experts.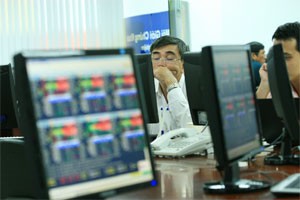 An investor falls asleep on a quiet trading day at a HCMC-based brokerage. Many securities firms incurred heavy losses from stock jobbing (Photo: Minh Tri)
IPA Investment Corporation, one of brokerage VN Direct's biggest shareholders, sold 3 million shares in the securities firm at the end of May.
It registered to sell nearly 4 million more one month later, while a member of the board of directors announced to sell out of his entire 1.25-percent stake last month.
Last year, the Hanoi-based brokerage's net profit slumped twofold from 2009 to VND105 billion (US$5.25 million) and incurred a loss of around VND130 billion in the first half of this year.
Big shareholders' retreats combined with the negative earning results leave investors wondering whether the stock market is no longer profitable.
"An official from IPA Investment Corporation says IPA will not lower its stake inVN Direct to below 35 percent," a broker told Dau Tu Tai Chinh Newspaper.
"However, that statement is not strong enough to ensure that IPA will not sell off the state despite a prolonged bear market."
Another brokerage Hai Phong incurred a loss of more than VND18 billion ($90,000) in the first half of 2011, an equivalent of 40 percent of its registered capital.
Sacombank Securities Company and Saigon Securities Incorporation – among the country's largest brokerages – also suffered heavy losses in the first six months of the year.
A small brokerage with around 30 employees will only manage to survive from the current difficult time if its trading value reaches VND30 billion or more daily, says a branch director of a big Ho Chi Minh City-based brokerage, who asks to be unnamed. 
Statistics show the Ho Chi Minh Stock Exchange's trading value has once amounted to VND450 billion measly ($22.5 million).
"Many securities companies have lost their entire registered capital. Most of them are now surviving on loans," says Hoang Thach Lan, director of brokerage from the securities firm MHBs.
"Many brokerages favor stock jobbing over stock brokering or consulting as it takes on a more speculative short-term tone. But I wonder whether they should focus solely on it."
Opportunities
"Brokerages are in difficult time, but it is not that everything is dark," says Duong Cam Da, deputy general director of Singapore-based Kim Eng Securities Company.
"They are having chance to recruit an amount of experienced employees from losers. Those employees can persuade a certain number of clients to switch to their new firm.
"Brokerages managing to retain their salary and bonus policies during the prolonged bear market will encourage their staffs to work harder to find more customers."
Kim Eng and Ho Chi Minh City Securities Company are among the few of brokerages that still stayed healthy in the first half. Both are not good at stock jobbing.