Bank stocks are appealing to local and foreign buyers as banks are proving highly profitable.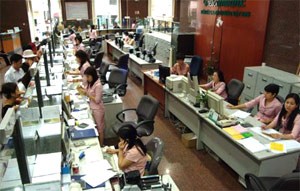 Local and foreign buyers are very keen on bank shares
In the last eight months, Saigon Commercial Bank (Sacombank) earned a profit of VND900 billion while Asia Commercial Bank generated interest of VND1,100 billion.

The Vietcombank's ratio of Return on Assets (ROA) reached 1,7, the highest ROA of state-owned banks and second (after Sacombank) among commercial banks.

Last year, Eximbank's post-tax profits climbed by ten times from VND21 billion earned in 2005. This year, the bank expects to boost its profits by 60 percent over the last year.

A few banks announced that they hit or nearly hit the 2007 profit target.

Viet Nam has 40 joint stock banks, 37 foreign branches, 5 joint venture banks, 9 financial institutes and 12 finance leasing firms. Their revenues are derived mainly from credit activities.

At present, however, only seven percent of the country's population has a personal bank account. This means that Viet Nam's banking industry is still in its infancy, and has enormous potential for growth.

Investors are waiting for the equitization of some banks like Vietcombank, Incombank, and Bank for Investment and Development of Viet Nam to buy their stakes.

An official from the Saigon Securities Incorporation said investors have been hunting for shares of Eximbank, Techcombank and Military Bank for several weeks now.

Buyers' keen interest in bank stocks has pushed up their prices on even the OTC market. Eximbank's stock went up from VND64,000 to VND73,000 after a few days, and Military Bank stock increased from VND49,000 to VND66,000.

According to a new regulation, state-owned banks must have a minimum chartered capital of VND3 trillion and other banks VND1 trillion from 2008, and the amount has to be VND3 trillion by 2010.

Therefore, there will be surely a mergence of banks. However, stock buyers are not worried as foreign and local financial groups are still keen on the country's banking sector.

Nguyen Minh Tuan, a stock buyer, said foreign buyers have purchased most available bank stocks; this means those stocks will be very profitable.

Additionally, the Planning and Investment Ministry has suggested not limiting the number of shares sold to foreigners from January 1, 2009. At present, foreign investors are allowed to buy only 30 percent of shares. As a result, foreigners will rush to buy stocks, leading to a high increase in stock prices.
(US$1 = VND16,159)