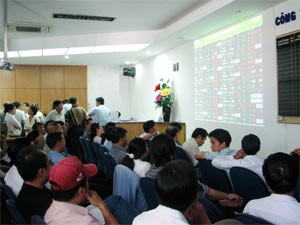 At the Bao Viet Securities Company's floor (Photo: Tuong Chau)
Viet Nam's fledgling stock market is short of listings at the moment but that will change as more of the nation's banks go public.
It is estimated that by 2010 the market capitalization of all the listed companies in Viet Nam will lie somewhere between VND60 trillion (US$3.75 billion) and VND120 trillion (US$7.5 billion), or five to ten times what it is at the moment.
Of the total, equitized state banks accounts for VND50 trillion (US$3 billion) and other joint stock banks more than VND 20 trillion (US$1.25 billion). In other words, bank stocks make up 60% of the stock market value. 
Shares in joint-stock banks are all the rage these days' shares as financial institutions are seen as safer than other companies. Aside from that, the State Bank of Viet Nam is starting to limit the number of commercial banks in the country.
Unsurprisingly their shares prices have surged in consequence, to levels way above bank shares in other countries, no doubt owing to the massive profits Viet Nam's banks are generating and look like continuing to do so for a while.
However, most Vietnamese investors are poor at analyzing balance sheets and assessing financial targets so they will not risk their money on high-priced shares, and the owners of these shares are rarely parting with them anyway.
The local banks are busy raising capital and have been for quite some time. The Saigon Commercial Joint-Stock Bank, for one, has increased its charter capital four times since the end of 2003.
Another, Southern Bank, has increased its capital from VND580 billion (US$36.25 million) to more than VND1.2 trillion (US$75 million).
One of the reasons for the capital raisings is to fund new branches and sign up more customers in preparation for Viet Nam's joining the World Trade Organization.
The shareholders like it too as they usually get first bite at the fresh share issues, and a nice little discount to boot.