Share prices have risen again. Investors' worries have mildly subsided when the demand has grown again.
Closing the last session trading of the week, VN-Index rose 23.81 points (4.39%) to 566.76 points.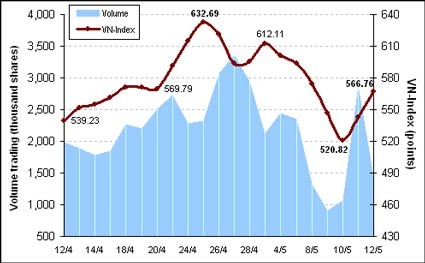 The VN-Index Chart in last month. (Photo: T.C.)
33 out of 36 stocks and fund certificate skyrocketed to ceiling prices, sweeping away all the selling orders. Regarding other securities, BBC of Bibica Company and VFMVF1 of Viet Nam Securities Investment Fund stayed flat while REE of Reetech Corporation saw slight increase of VND 2,000 per share.
The selling trend turned sharply into buying tendency as numerous selling orders were canceled while buying orders flooded the board.
At ACB Securities Company's trading floor, investors chatted joyfully showing their confidence in the recovery of the bullish trend.
Meanwhile, analysts were more cautious as too much fluctuation of share prices might not be good for the market and investors. Without a well-informed investment plan, new investors might as well add to the volatility of the market.
A investor signing order in ACBS. (Photo: T.C)
The recent fall should have served as a wake-up call for new investors that would hopefully prod them to do some homework before making an investing decision.
As a rule of thumb, the higher the risk, the better the returns. Nothing is more pertinent than that in share investment.
Between the "peak" set on April 25 at 632.69 points and the recent "bottom" at 520.82 points, there is the spread of 111.87 points (17.68%) that have shaken many investors.
"Recent surge of gold is stunning but cannot compare to share prices. Stock investing is risky but the profit is well worth it", said a young female investor at ACBS.
Related Articles:
The Viet Nam Stock Market: Stocks Turns Around Spectacularly
The Viet Nam's Stock Market in 6 Early Trading Sessions of May: Stocks Down, Foreign Investors Continue Buying In
Share Prices Skyrocketed – Exciting and Concerning
In the Fever of Viet Nam's Stock Market: Total Trading Volume Sets New Record
Related Links:
Bibica Joint-stock Company (Bibica)
Viet Nam Securities Investment Fund (VF1)
Refrigeration Electrical Engineering Corporation (Reetech)