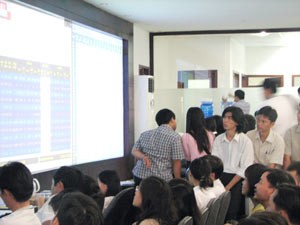 Investors monitor the CYC stock price and the drop of STB share. (Photo: T.C)
The last trading session of July welcomed the first stock of ceramics industry to float on the market. In its debut, the CYC share of Chang Yih Ceramics Joint-stock Company (Chang Yil) was priced at VND 20,000/share at the trading volume of 16,530 shares.
Chang Yih has the chartered capital of VND 90.47 billion and was the fourth 'then-FDI' enterprise to join the stock market. As there was not much information of CYC available before its listing, the 1.99 million CYC shares (VND 19.9 billion in par value) were not priced highly by investors.
From now on, the construction material sector has a representative in ceramics industry on the listed market, adding to the already listed enterprises of cement, concrete, mechanics, packing, plastic pipeline, brick, and cable industries...
In the next few days, another enterprise in the same industry – the Thanh Thanh Ceramics Joint-stock Company will follow Chang Yih to go public.
Despite being supplied by several new listings, the market cannot buck its downward trend as stocks fell hard in July 31 trading session. 41 out of 44 stocks slid, causing the VN-Index to drop 17.16 points to 422.41 points at closing.
The main factor behind the fall of the whole market was the drop of STB stock of Sacombank. More stocks on market stayed flat and slightly rose in the first phase but saw a sudden pullback in the next two phases of the trading session as hundred thousands of STB shares were sold at floor price.
After the session, STB still have the selling orders of VND 657,390 shares unmatched. The unmatched of STB, together with that of VNM shares of Vinamilk (162.920 shares), roughly equals the trading value of the whole market (VND 57.67 billion) in this session.
While the stock market lacked of buying power, bonds trading volume reached over VND 470 billion.
Related Articles:
Stocks Sank Dramatically
Full Power – The Third FDI Enterprise to List
Vinafco – The Fifth Transport Enterprise to Go Public
Vietnamese Stock Market: New Investment Opportunities with More Listings and Share Sales
FDI Enterprises Raring To List