At closing on May 19, the Vietnamese stock market had 28 stocks and fund certificate fell.
VN-Index plunged 3.78 points to 562.33 points.
The whole market had 1,869,070 securities changing hands, or VND 103.8 billion worth of stock and fund certificate.
May 18, the stock of the Ho Chi Minh City Infrastructure Investment Joint-stock Company (CII) made its debut on HCMC Securities Trading Center (HSTC).
It is the 36th company listed on the HCMC bourse with 30,000,000 shares (equivalent to VND 300 billion of equity capital).
CII is currently the third biggest company in terms of shares number in HSTC, behind Vinamilk, 159,000,000 shares, and Gemadept, 34,795,315 shares.
In its first trading session, CII was traded at VND 50,000/share. Total trading volume reached 275,600 shares (approximately VND 13.78 billion), leading the market in this 1,291st session. Also in the session, foreign investors bought 13,520 CII shares, equivalent to VND 676 million.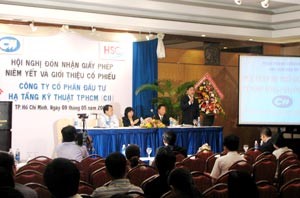 The CII's meeting is held to introduce their stock for investors before listing its shares. (Photo: T.C)
CII specializes in financial investment, raising fund for infrastructure development projects.
Currently 87.97% of CII is owned by domestic investors. Foreign investors, including Dragon Capital, hold the remaining 12.03% stake.
The most notable investors of CII is its founder, the HCMC Investment Fund for Urban Development (HIFU), a state agency which has initiated many infrastructure development projects, owning 18.33% of CII. HIFU holding the chairman position and having great influence on the company's operation.
The trading session was watched by Vice Chairman of HCMC People's Committee Nguyen Huu Tin, Deputy President of State Securities Commission of Vietnam (SSC) Nguyen Doan Hung, and the participants of foreign and domestic investors.
Related Articles:
Vinamilk and Gemadept Power the Market
Stock Price Suddenly Slid
Two More Enterprises Are Licensed To List
Infrastructure Company To List On Bourse
Other news
BIDV's Bonds to Be Listed By the End of June(Thursday ,May 18,2006,14:47 GMT +7)
Vinamilk and Gemadept Power the Market(Thursday ,May 18,2006,14:43 GMT +7)
Stock Price Suddenly Slid(Wednesday,May 17,2006,18:13 GMT +7)
Listed Companies To Raise More Fund(Wednesday,May 17,2006,18:12 GMT +7)
Two More Enterprises Are Licensed To List(Wednesday,May 17,2006,11:10 GMT +7)
Stock Exchanges To Increase Trading Time(Wednesday,May 17,2006,11:04 GMT +7)
Viet Nam's WTO Accession Warms Up Stock Market(Tuesday ,May 16,2006,10:41 GMT +7)
Buying Power Rises Again(Saturday ,May 13,2006,18:17 GMT +7)
BIDV to Offer More VND 100 Billion Worth of Bonds to Individual Investors(Friday ,May 12,2006,16:26 GMT +7)
Petrolimex Gas' IPO Sees Record Of Participants(Friday ,May 12,2006,15:46 GMT +7)