For the third consecutive day, trading on the Hochiminh Stock Exchange was suspended. A system failure occurred on Tuesday and trading will not resume until Friday at least.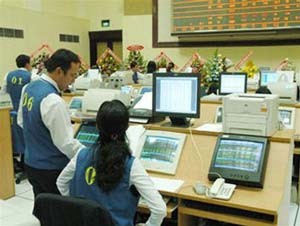 What often seen at the Hochiminh Stock Exchange
The failure was the result of service errors in the Unix operating system. The market was unable to reopen Thursday as expected, according to technicians from Hewlett-Packard and company Internet com, who are in charge of maintaining the system.

The exchange said it is working on the problem and plans to resume the trading Friday.

The Hanoi Securities Trading Center dropped 1.89 points or 1.53 percent to close at 121 Wednesday.

Total trading volume rose slightly to 6.3 million units, 3.7 million of which are bonds worth VND318 billion (US$19.8 million). The rest are shares worth VND83 billion (US$5.18 million). This volume was five times higher than in the previous session.