Annual general meetings (AGM) of listed enterprises this year are expected to be very quiet amid the slumping market and negative earning results, brokers said.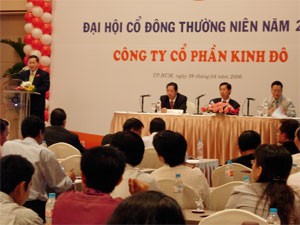 View of the annual general meeting of confectionery firm Kinh Do (Photo:Minh Tri)
"The bearish stock market will make individual investors shun the annual general meeting this year. Those who rely on technical analysis to trade stocks will be also unwilling to attend the events," said a broker of a Ho Chi Minh City-based securities firm.
"They will be interested in the dividend rates. As usual, the worse earning result is, the higher dividend rate they demand. However, rate this year will unlikely to be at high levels due to 2010's difficulties and 2011's tight monetary policy."
The Ho Chi Minh Stock Exchange's VN-Index, the country's major index, slid 4.02 percent, the most since November 26, 2009, to 483.68 on February 21, with 253 out of 280 stocks losing ground. The gauge has lost 10 percent since the market reopened after the Tet holiday.
Brokers are concerned that AGM of many listed firms having negative results would be undone as the number of attendees, who have voting rights, would not amount to the required rate of 65 percent.
Many investors said the firms' gloomy earning results or endless arguments between key shareholders and directors made them got bored with AGM.
"Representatives of two big shareholders of construction firm Coteccons (CTD), which are two investment funds, kept arguing with directors about ratio of bonus shares for the Board of Directors at the ASM of last year," an investor recalled.
"They kept saying that the firm could suffer losses if it did not set up an appropriate plan for the issuance, which was unnecessary and clichéd."
Last year, property company Sudico, listing on the HCMC bourse with code named SJS, made a pretax profit of VND640 billion (US$32 million), equal to less than 64 percent of the target of VND1 trillion.
The failure came from the management capability of directors, some big shareholders of the HCMC-based builder said, adding they did not want to attend this year's AGM as they knew their opinions were not expected.
Despite subsidiaries of state-owned gasoline supplier PetroVietnam among top picks on the Hanoi Stock Exchange, many investment funds still hesitate to buy as PetroVietnam holds controlling stake in the companies.
"Many investment funds, who own thousands shares in the subsidiaries of PetroVietnam Group, are unwilling to join the AGM as they almost have no voting right," said a broker.
Experts said big shareholders holding controlling stake have surely voting right at the AGM, but they should listen to small shareholders, who also want to contribute to their company's development.