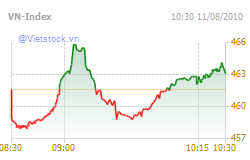 Movements of VN-Index on August 11. (Photo: vietstock.vn)

The VN-Index recovered on August 11, put an end to its losing streak of five consecutive trading sessions. However, liquidity on the city bourse severely fell, as investors were concerned about the bull-trap at the beginning of the trading session.
Even though global stock markets faced many difficulties over the past 24 hours, stocks on the Ho Chi Minh Stock Exchange began today's trading session easily, jumping up 1.41 points to 463.06. Trading volume in the first part of the trading session significantly improved over the previous day to 2.6 million shares, valued VND80.59 billion.
Upbeat sentiment was maintained through the beginning of the second part of the session, when the VN-Index surged by 4 points in just 10 minutes. Trading value climbed to VND200 billion. Blue-chip stocks propelled the market.
However, the index started to erase its accumulated points suspiciously, as soon as investors became excited.
Ending the trading session, the benchmark, a measure of 253 companies and five mutual funds listed on the city bourse, rose 0.31 percent, or 1.45 points, to 463.12.
Of the index, 147 stocks advanced, 65 declined, while 46 stalled.
Trading volume dropped by 30 percent over the previous session, to around 40 million shares, worth VND1.09 trillion.
Saigon Thuong Tin Commercial Bank or Sacombank (STB), who saw 1.75 million shares change hands today, was the most active stock in volume.
Refrigeration Electrical Engineering Corporation (REE) followed with 1.38 million shares changing hands.
Foreign Trade Development and Investment Corporation of Ho Chi Minh City (FDC) finished next, with 1.31 million shares traded.
Telecommunications Industry Electronics Joint Stock Company (TIE) led the big gainers on the southern market, spring up the daily maximum allowed limit of 5 percent to VND23,100.
My Chau Printing & Packaging Holding Company (MCP) went up 4.96 percent to VND12,700.
Dream House Investment Corporation (DRH) traded at VND17,000, an increase of 4.94 percent over yesterday.
Decliners included Viet Nhat Seafood Corporation (VNH), Binh Duong Mineral and Construction Joint Stock Company (KSB), and Camau Trading Joint Stock Company (CMV).
The smaller bourse in the north also revised after experiencing a choppy trading session, gaining 1.27 points, or percent, to 139.12. More than 31 million shares changed hands at a value of VND781.73 billion.
The UPCoM-Index also added up 0.69 points to 49.28, as of 11 am local time. A total of 288,663 shares were traded at VND4.62 billion.