Sugarcane producers have higher profit growth rates than confectionery companies, but the latter have an advantage of widespread distribution system.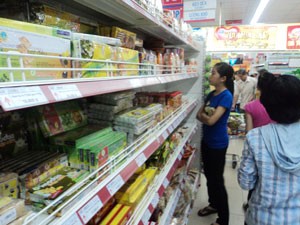 Shoppers pick candies at a Co.op Mart supermarket in HCMC (Photo:Minh Tri)
Statistics from the Hanoi-based brokerage Tan Viet show sugarcane producers made more money than confectionery firms in 2010.
Among listed sugarcane makers, Lam Son Sugar JSC (LSS) achieved the highest profit growth rate of 89 percent, following are Gia Lai Cane Sugar Thermoelectricity JSC (SEC), Ninh Hoa Sugar JSC (NHS) and Bien Hoa Sugar JSC (BHS) increasing 52 percent, 38 percent and 21 percent respectively.
On the other hand, among listed confectionery firms is only Kinh Do Corporation (KDC) gaining a positive profit growth rate of 27 percent last year.
Hai Ha Confectionery JSC (HHC) and Bibica Corporation (BBC) suffered dropping rates of 7 percent and 27 percent respectively.
The price-to-earnings ratio (P/E) of confectionery stocks reaches an average of around 9x, with leading firm Kinh Do amounting to 9.5x. Hai Ha and Bibica, which have smaller scale and less market shares, have P/E of 8x and 6x.
P/E of sugarcane stocks is expected to remain unchanged at 5x, with small caps including Kontum Sugar (KTS), Ninh Hoa Sugar and Gia Lai Cane Sugar Thermoelectricity having an average ratio of 4x.
Investors usually cashed in on the confectionery stocks in holiday seasons, when sweet consumption moved up sharply, analysts said.
However, accelerating inflation this year will likely to force consumers to move confectionery out of their shopping list.
Consumer prices climbed 17.51 percent in April from a year earlier, according to the General Statistics Office in Hanoi. The rate is the highest since December 2008.
From the end of 2010, the consumer price index is up 9.64, breaking the annual target of 7 percent for 2011.
There are six sugarcane producers listing on both Ho Chi Minh and Hanoi Stock Exchange. Among them, Société De Bourbon Tay Ninh (SBT) is the biggest maker as it partnered up with French food processing giant Bourbon.
Different from the two other firms which focus solely on core businesses, Kinh Do targets to become a food processing, property and investment group. The HCMC-based company holds the largest potion of 20 percent of the domestic confectionery market.
While candy production does not rely on materials, sugarcane producers have to reduce, or even halt their operation due to shortages of materials. Most of them also grapple to set their own distribution system to deliver their products to locals, making dealers earn the most profits.
Confectionery firms, in contrast, have three major distribution channels including retail distributors, supermarkets and wholesale agencies, which help them prevent dealers from driving retail prices.
Kinh Do has more than 200 wholesale agencies and 400,000 retail dealers, Bibica has 91 agencies and around 4,000 retail dealers and Hai Ha has 100 agencies, which consume 90 percent of the firm's annual output.