Although most construction companies met their earning targets in 2010, financial experts and brokers expected they would continue to face with more challenges this year.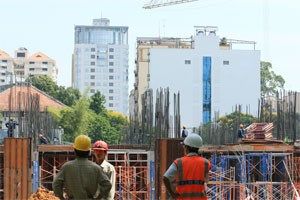 Construction stocks are not profitable in short terms, but some are potential long-term investments (Photo:Minh Tri)
Revenue growth rate of construction sector reached 36 percent in 2010, the Hanoi-based brokerage VNDirect said in the latest report. However, the net profit grew at a much slower rate due to high lending rates in the last two quarters of last year.
Revenue from financial investments of builder Song Da 9 plummeted VD40 billion (US$2 million) year-on-year.
Analysts said the Hanoi-listed company struggled to manage its investment portfolio since the stock market dropped sharply. Its after-tax profit decreased by 20 percent in spite of the gross profit rising by 32 percent.
Its brother Song Da 5 also made negative earning results in 2010, with the after-tax profit declining 3 percent year-on-year.
Brokers said that increasing interest and administrative expenses weighted down profits of the Tuyen Quang Province-based firm, which is one of subsidiaries of the construction giant Song Da.
Ho Chi Minh City-listed Coteccons did not borrow from banks, but its income growth rate last year also declined 68 percent year-on-year on the rising input costs and administrative expenses, which surged 108 percent.
Among the two builders achieving the best financial results last year are Song Da 7 and Vinaconex 1, which gained income growth rates of 13 percent and 94 percent respectively.
Experts said the healthy results came from the two firms' property projects. Song Da 7 made a total revenue of VND925 billion ($46.25 million) from its apartment building An Khanh, while Vinaconex 1 earned a total sales of more than VND800 billion from the luxury residential zone Vinaconex.
Financial experts expected that construction firms would continue to face with many challenges in 2011, including the government's cap on credit to property projects.
Knowing the upcoming difficulties, many listed builders set cautious targets. Vinaconex 5 expected that its pretax profit this year will increase by 5 percent year-on-year, while Song Da 10 aimed at a 9 percent increase. Song Da 9 even expected to earn an equal pretax profit of 2010.
Brokers noticed that listed construction firms also hesitated to issue additional shares to raise their registered capital in spite of property projects' huge investment requirement.
Statistics show only Vinaconex 2 announced it would raise the registered capital to VND120 billion ($6 million) by issuing bonus shares for existing shareholders at the one-for-one ratio.
Share price of construction stocks has fell up to 40 percent, with the price-to-earnings (P/E) and price-to-book value (P/B) ratios amounting around 5x and 1x.
"Construction stocks are not profitable in short terms, but some are potential long-term investments. Coteccons (CTD) and Song Da 5 (SD5) have stable income growth rates from its effective core businesses," said a broker in HCMC.